The locals are winning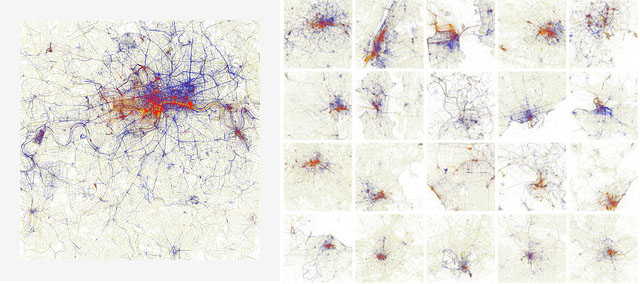 It's safe to say you're on Flickr. Most of us are, but do you geotag your photos? I started to, then I realized it was pretty high maintenance (at least for me). Well if you've taken a photo in a major city in the last year and geotagged it, it's likely that one of these blue or red dots is yours.
Eric Fisher took it a step further, however, by organizing the photos into local vs. tourist photographs. The blue dots represent images taken by people that live in the city presented, and red ones from tourists. He tagged people as tourists if they took pictures in the city for less than a month. X, Y and T, awesome.
London seems to be its own biggest fan of all the cities shown. They clearly love their home and want to share it with the internet (or Flickr, at least).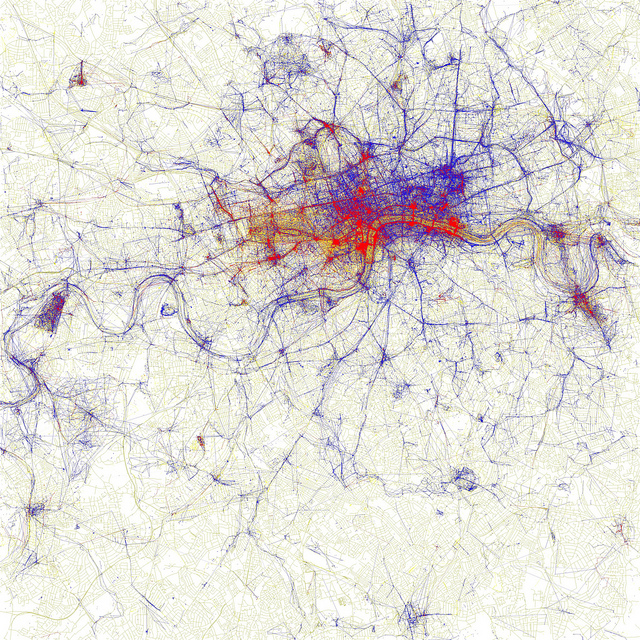 Perhaps there's something off the Thames that tourists should be seeing, but aren't. Especially in the Shoreditch/Hoxton district, clearly there are things worth photographing. Interesting that this could now read as a guidebook on where not to get stuck in a crowd of camera-toting tourists. Instead you can re-route your trip to be stuck in a crowd of camera-toting locals. It's safe to say the local version of this scenario is superior. Way off to the left few tourists are making it out to the Kew Royal Botanical Gardens, obviously it's worth the trip with its treetop canopy walkway and Victorian glass Palm House.
What about the west coast?
Here's Vancouver, BC: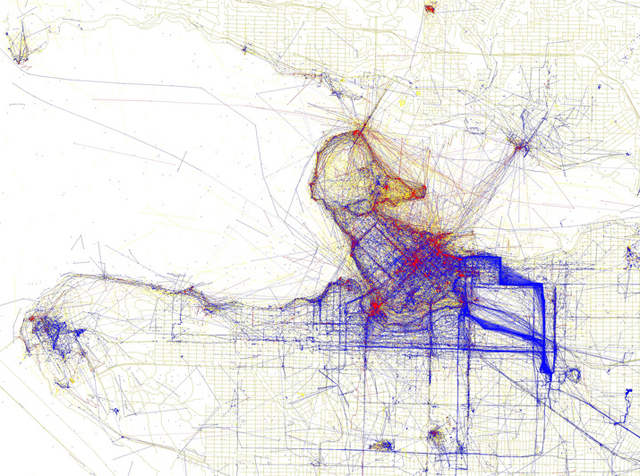 A few tourists are making it out to the University of British Columbia but it looks like only tourists are venturing into Stanley Park. This seems odd, every time I'm in that park it seems like neighborhood joggers are filling the sidewalks. Perhaps they just don't feel the need to photograph. And what is the major attraction with Commercial Drive heading into Chinatown? So many things can be said about a city looking at these diagrams!
Here's Seattle: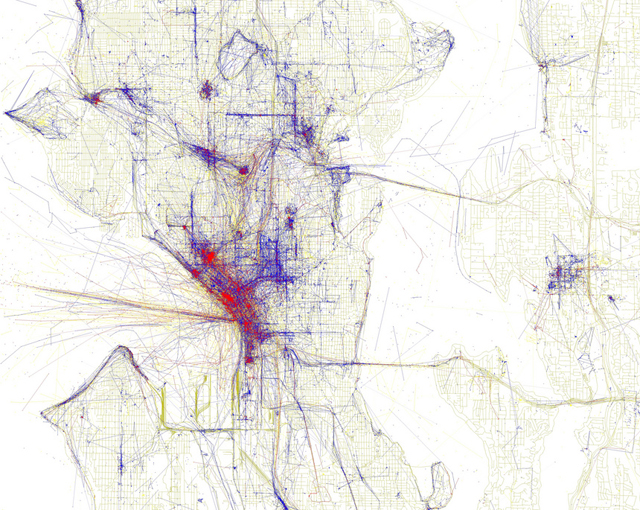 What a perfect local outline of Green Lake. Capitol Hill lovers really love their neighborhood. Awesome, I find it invigorating that residents are sharing their local attractions with such ferocity. Loving where you live is such a huge part of being human. Bellevue, you get a shout out also, nice work guys. Although no one from out-of-town is visiting you (far right).
Ok, Portland time. This is awesome: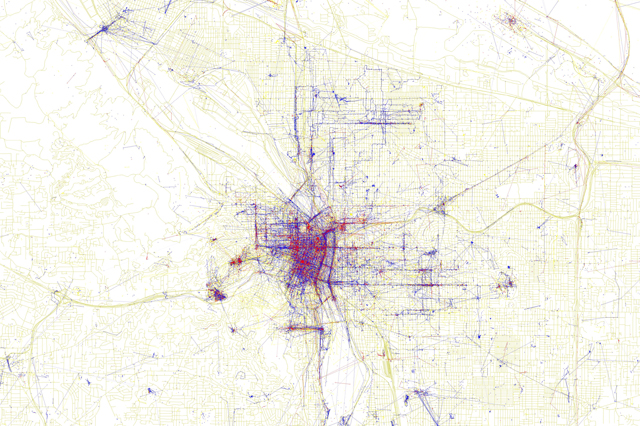 Alright, let's take a look at this guy. You can see pretty much every bridge in downtown clearly, we love our own waterfront, and there is a surprising local affection for NoPo. We love going to our own Zoo, and we also really like Reed College. As many locals as tourists photographed the aerial OHSU tram (must be the docs), and the people of St. Johns absolutely love their bridge. What else? Oh, no one in Portland is going to the Rose Gardens these days. Sad.
Check to see if your city is detailed, and once you click, Flickr users have been nice enough to tag the photos with all the locations being photographed. Great little study.