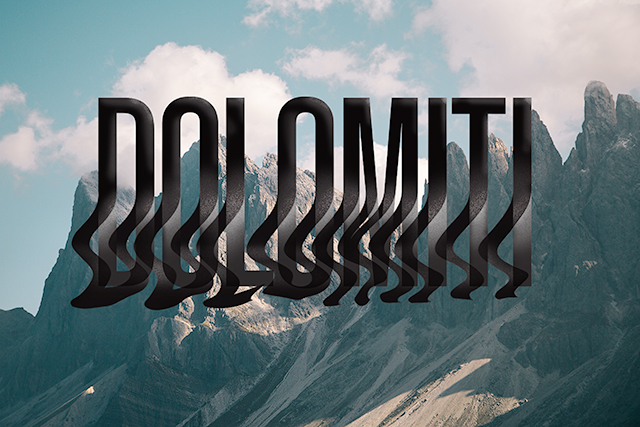 This year I've seen some road. Mostly in my home state of Oregon, but sometimes you've got to leave home in order to really see it better. Late in summer there was a small window for me to get into some serious overseas hiking, so I jumped at the chance to huff up some alpine paths, based on a photo I'd seen a couple years ago. Lloyd Winter showed it to me one day at work, and it had been haunting me ever since. It was taken in the Dolomities (Dolomiti), a craggy, rugged, mythical swath of the Italian Alps that are completely bewildering in scale and accessibility.
I started digging on the internet to find a description or route map to this single mysterious photograph. No luck. I continued for a few weeks clicking around Tumblr's, Instagram, and any leads I thought might bring me to the gateway this photo was taken from. Somehow the internet lead me to exactly where I was looking for. These are some other things I saw along the way. Thank you, random Internet image, for letting me pass through these gateways on a quest to find you.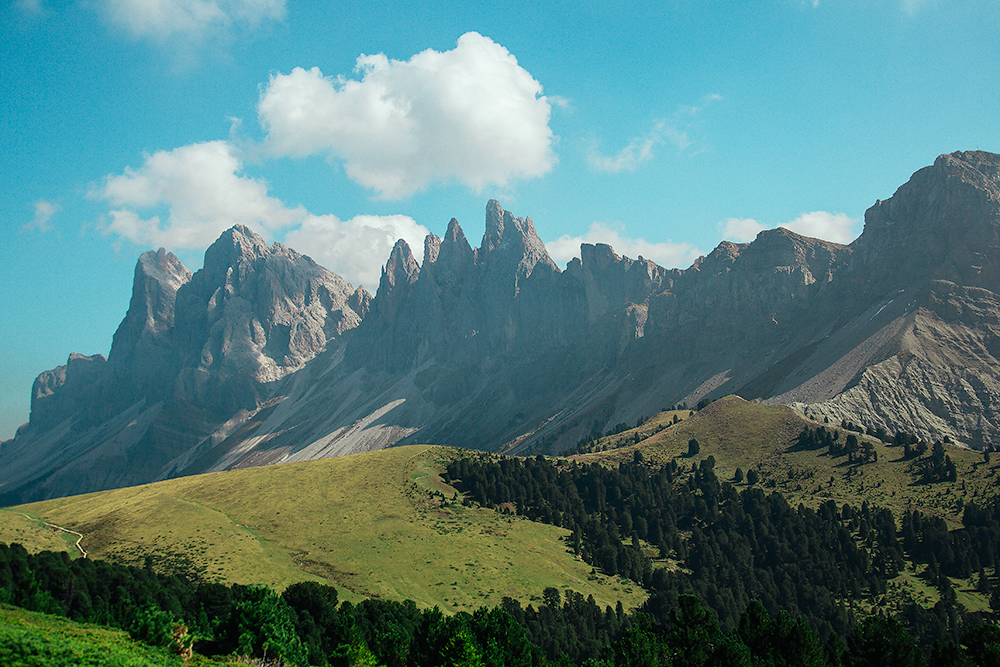 There are two approaches to the Dolomites, via Innsbruck from the North, or Bolzano from the South. I came up from Bolzano, and not knowing what I was doing, mistakenly stayed in Bolzano. I thought that was in the Dolomites. In fact it's a 40 minute bus ride from them, so I missed out on several sunsets and star shows, unfortunately. Chalk this mission up to reconnaissance for another exploratory visit.
After I got my bearings in the region, I realized every valley had its own culture, language (German, Ladin, or Italian), and distinct mountain landscapes. One could spend an entire vacation in a single valley exploring the rocky monoliths, flanked by Disney-esque villages, stocked with every service you may need.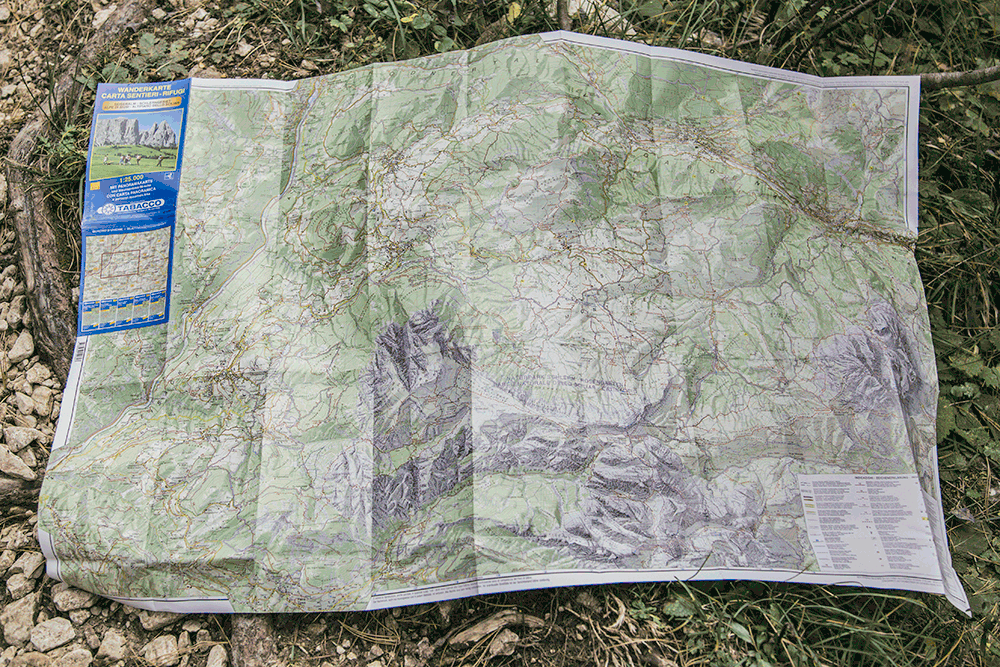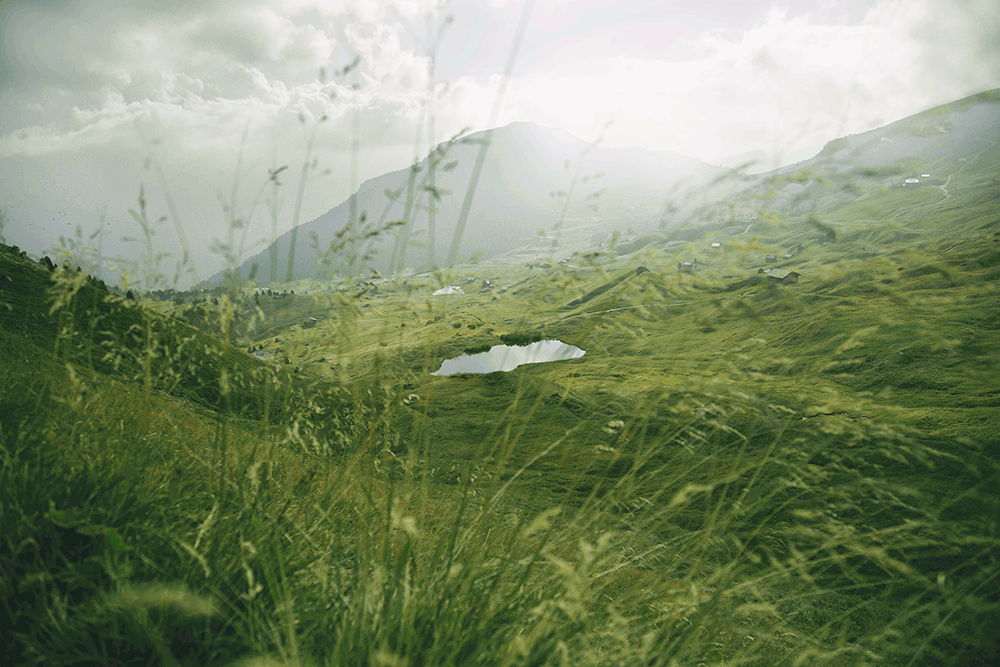 But of course in this part of Europe cute villages are everywhere. I was not here for a hotel/spa retreat combo, or lazy Sundays eating my weight in Gelato. As soon as I saw my first craggy peak looming above my bus window, I was obsessed with getting up in their business, and of course, sourcing the image that lead me here in the first place.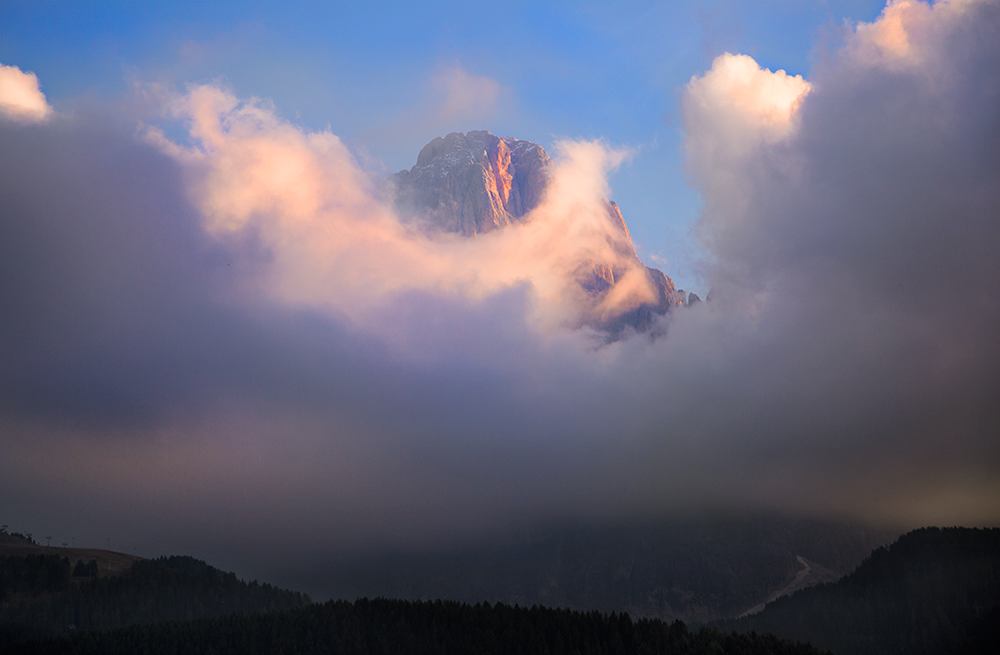 What is incredible about the Dolomites is not their height, there are higher peaks to be found in the Alps, it's their accessibility. Often they seem to have no foothills, and jut up from high plateaus vertically, right before your eyes. So, their scale is at a mind-altering closeness that makes you feel even smaller than you are. And, since the foothills are rather easy to navigate, there are lifts and roads and huts peppered throughout the entire range. In fact one can hike hut-to-hut for days or weeks on end without coming down from the lofty summits. There are so many that you can determine how long you want to hike each day, and pop into a fully stocked hut and bed down with other fellow trekkers. It's a dream. A TOTAL DREAM. Seriously I've been having dreams about it since I've been back.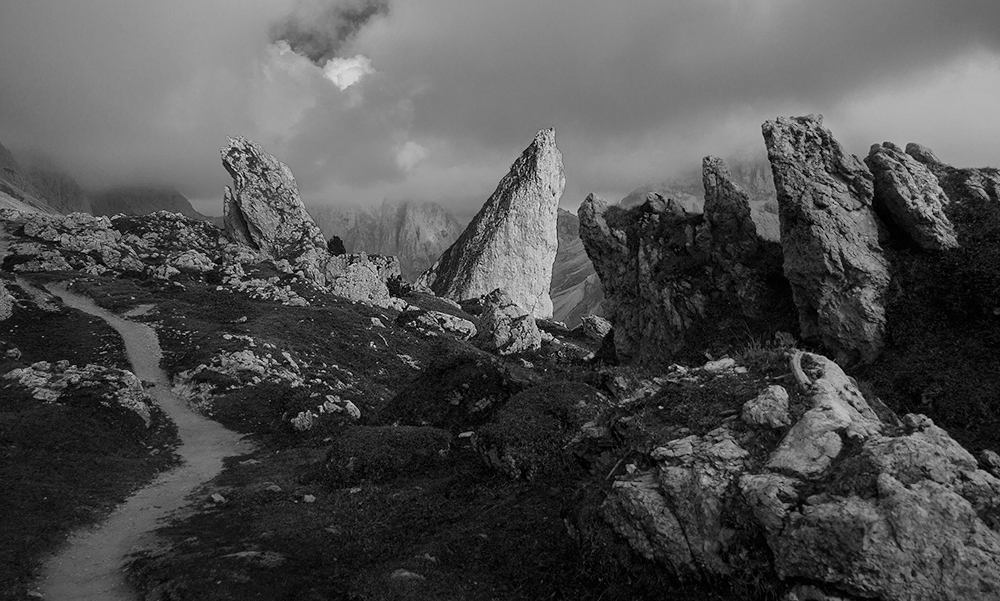 There is a group of monoliths near a ring of needle-sharp towers called the Puez-Odle Group, which lies in the tiny Kingdom of Odle that is particularly stunning. From any direction, the views are heart stopping. There was some local literature that credited this area of jutting peaks and larger-than-life cliffs as the inspiration for JRR Tolkein's depiction of Middle Earth. I have yet to source that on the web at home, but it only takes a quick glance to see the correlation.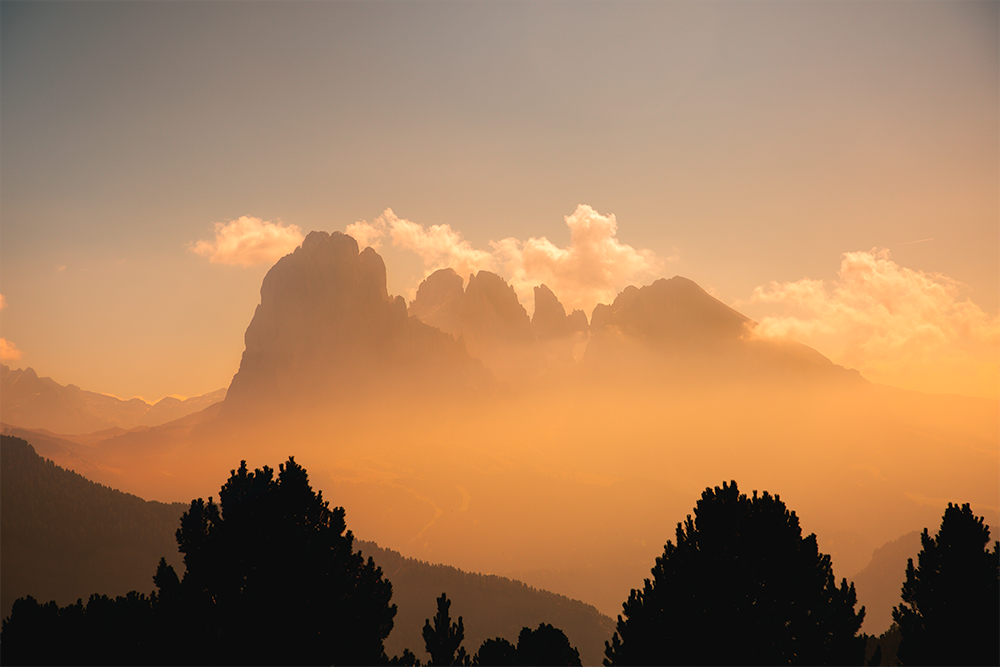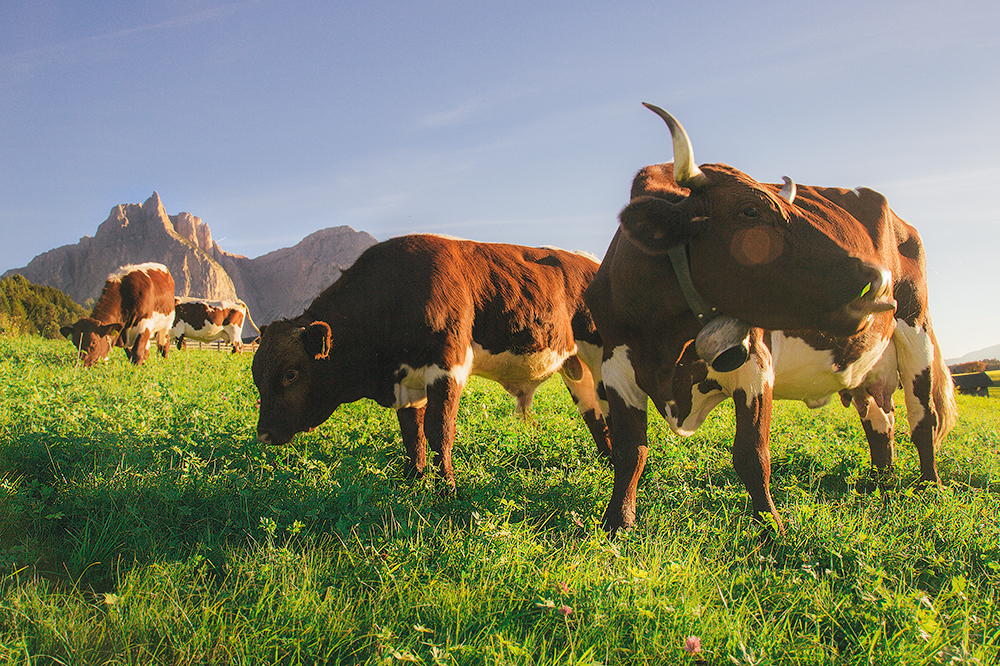 Want a craggy backdrop with curious milk cows in the foreground? No problem. There are sheep, mini goats, cows and horses, each equipped with a huge bell around the neck to make you giggle and swoon to your heart's content. They will sniff you, and take any treats you have, but of course, don't feed these creatures, this area is full of farmers who depend on the health of their livestock. In fact most of the area is built for farmers who harvest their crops right up jagged cliffs with 1,000 foot drop-offs. Certainly during winter this is a brutal place to call home, with roads closed to the outside world. The skiing, however, is legendary. This is the sort of place you ski up to your hotel room, being just a few clicks away from Cortina.
So, back to finding the source of the image that got me here.
I went to the wrong place. Twice. I didn't know the NAME of the peak, so I was miscalculating based on an illustrated map of a ring of giants called the Alpe de Siusi. There was this one section that I THOUGHT might lead me to the exact same peak the photo was taken from. I realized I was way off, but then actually saw the peak from a break in the clouds. It was already afternoon and I knew I had to get off these mountains before the last bus to Bolzano at 6pm. I ran. I caught a chair lift. And then, 3 hours later I found myself, heart pounding, watching the clouds clear, over the thing I came for.
The Seceda summit over Val Gardena. Internet and real life, colliding.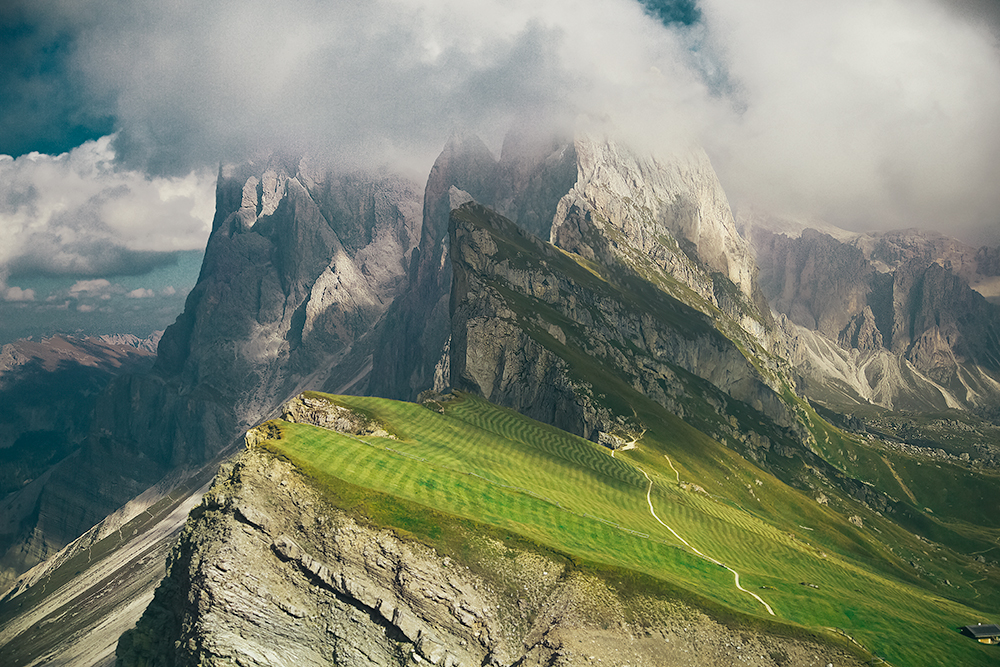 So I missed the last chair lift out of the high alpine area after staring for too long, and thus ran down the mountain, only to miss the last bus out of Santa Christina. Whoops. It was getting dark. Literally the first hotel I walked into had a single room and was just seating for dinner. Score. It was this place, Hotel Kristiana. Go there, if there was any more random string of events that lead me to this single hotel, I'm not sure I could actually follow them.
That night, after a hearty alpine dinner, I got chatty with the hotel owner and his friend of 50 years, when we started talking about trails.
After a few remarks, they realized I was asking them for their advice on the Dolomiti, and immediately I had over 100 years of mountain knowledge being poured over my head as they pulled out their old, ripped maps, and told me where to head the next morning. I sat there, realizing that this was another version of the internet, telling me where to go. The original map – human memory. I so want to go back to that hotel bar and see those lifelong buddies giggling about the old days and sipping Ouzo. The reason I want to go back, is because they sent me into another dimension. They lifted the curtain for me, though I didn't realize it at the moment. Neither of them were fit enough to go on the trail they were telling me to hit at sunrise.
There was one single destination they said I had to visit. Tierser Alpl Hutte.
The hut (Hutte/rifugio) itself isn't the main program. It's the ascent and decent. Both of which are completely unique, and completely on another planet as far as beauty. Nothing can prepare you for the images you will see on this hike. What you see here are single eye shots. Each direction you look is a complete masterpiece of deep mountain inspiration.
And by inspiration I mean heart-breaking scale and majesty.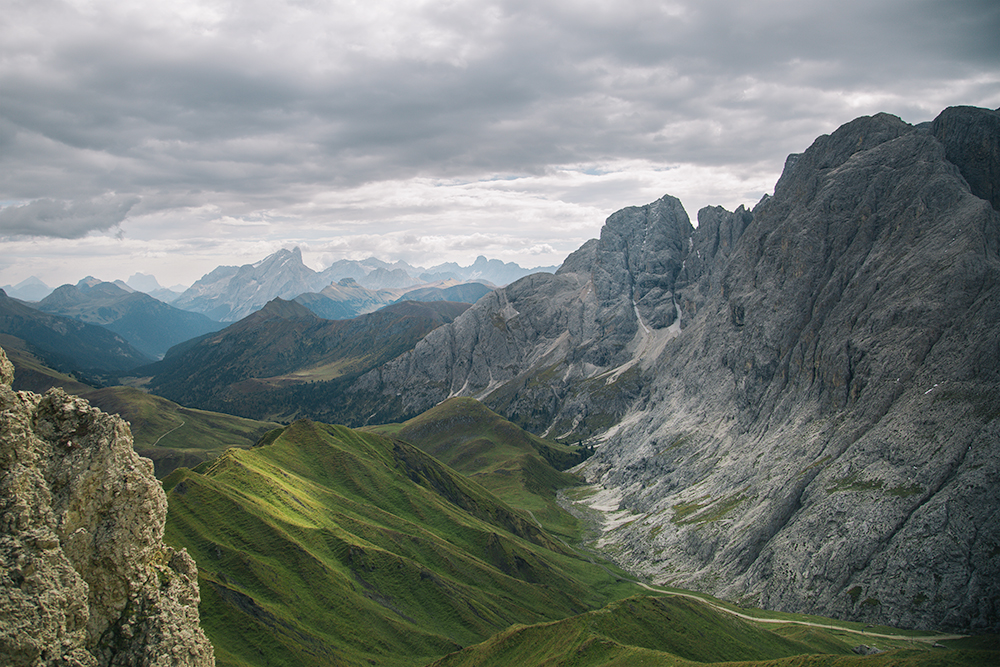 What is scale here? I'm not sure. In the image above, in the lower right, you can make out power line poles. That's about the only scale I can offer. So, the vastness swallows every human thing, and yes you will love it.
After stopping in the Tiers Hut for an espresso and soup, I descended for several hours to the town of Tiers, where I caught my last bus on my last day in these magical peaks, and headed home. On my way, I glanced over my shoulder and saw a new ring of giants, the guardians of the Rosengarten, a group of pink-glowing needle-like fortresses that I just didn't have time to explore.
Maybe you should?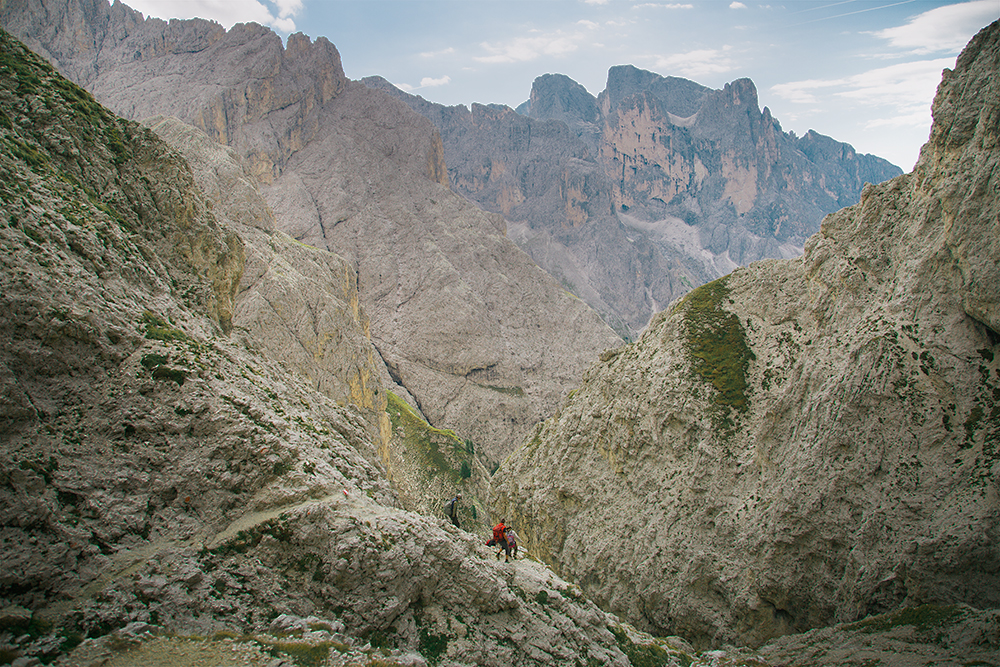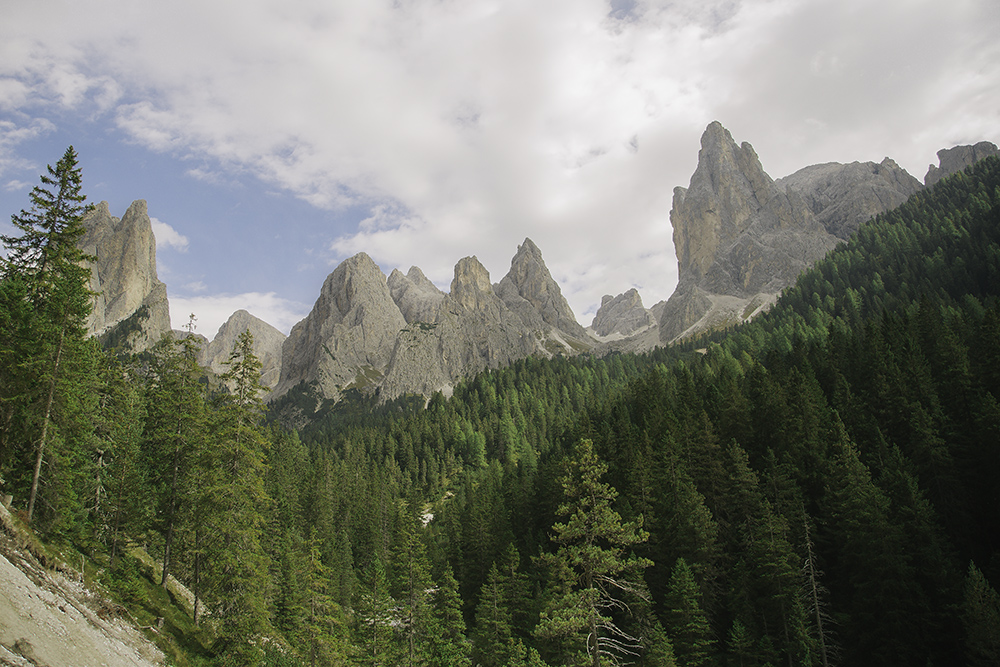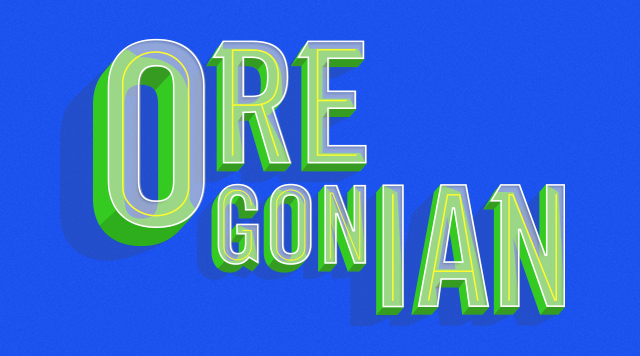 Over the past few weeks I've been traveling Oregon. Getting in deep. Logging 1,400 miles here, 700 miles there, all running around the areas I know, some I don't, all trying to dig out the feel of what this state really is.
It's hard to say, now. I mean it's mostly desert, but what I'm getting at besides a physical description is that, I'm not sure if I'm really an Oregonian.
Working towards my 32nd winter here, and there are still vast stretches of this state filled with towns and people that I've never even heard of. I think it's valid to say I was born in Oregon, but I'm a Portlander. To be an Oregonian, I'm not sure yet, but it feels like I need some more time here.
Some more miles under my tires.
Because, really, this is a huge state, and I've been to maybe 18 of its 36 counties.
Can I fly the Oregon flag and say I'm "an Oregonian" – having only seen about 20% of the state?
I dunno.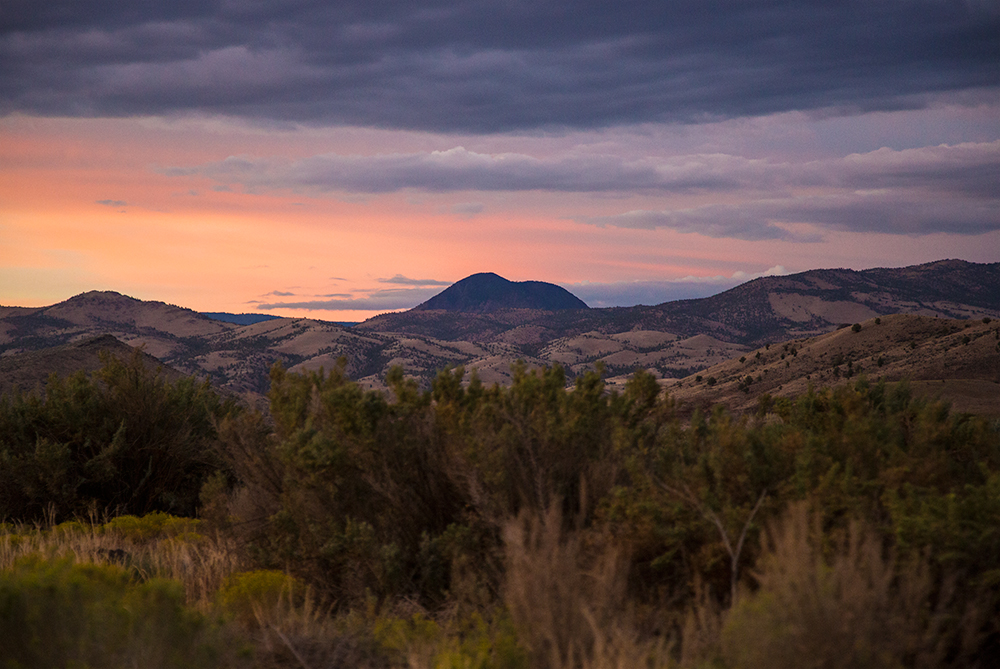 This go 'round I had two travel companions. One Ryan J Bush, and my trusty tried and true trail pup, Nukka. We bounced out of Portland on a Sunday morning and rolled straight over Mt. Hood and into the Ochoco National Forest. It's here that I'll mention we were chased by an aggressive lightning storm through the Warm Springs Indian Reservation. We saw several strikes directly in front of us on neighboring roads. Way to start off cracking.
The Ochoco drive-through was my first realization that I know next to nothing about this state. Red ponderosa forests, steep buttes, and craggy, unexpected cliffs in this area are visually arresting.
I wanted to linger, explore, and poke around.
But our objective was the Painted Hills. We found some BLM land to camp on, and stayed to study the morning light on these strange features.

Our reward was color.
We then pushed further SE into the state through John Day, then Burns, on into the nothingness that is the interior of Harney County.
But, in fact, there are wonders in Harney County, just very few people or paved roads. Careful, make good decisions about short cuts. There are no good shortcuts.
We learned.

There is this arc of magnificence that stretches from Malheur Wildlife Refuge South to Nevada. It's everything associated with Steens Mountain, which is the largest fault-block mountain in North America. Everything here is on a megalithic scale. At the base of the mountain is a dry lake bed called The Alvord Desert, the driest place in Oregon. You can drive out on it, camp on it, marvel at it, get lost (it's easy), or lose your mind during a sunset. We preferred to do all of the above, but also at sunrise. Want to feel like you're levitating on an alien moon? Come here.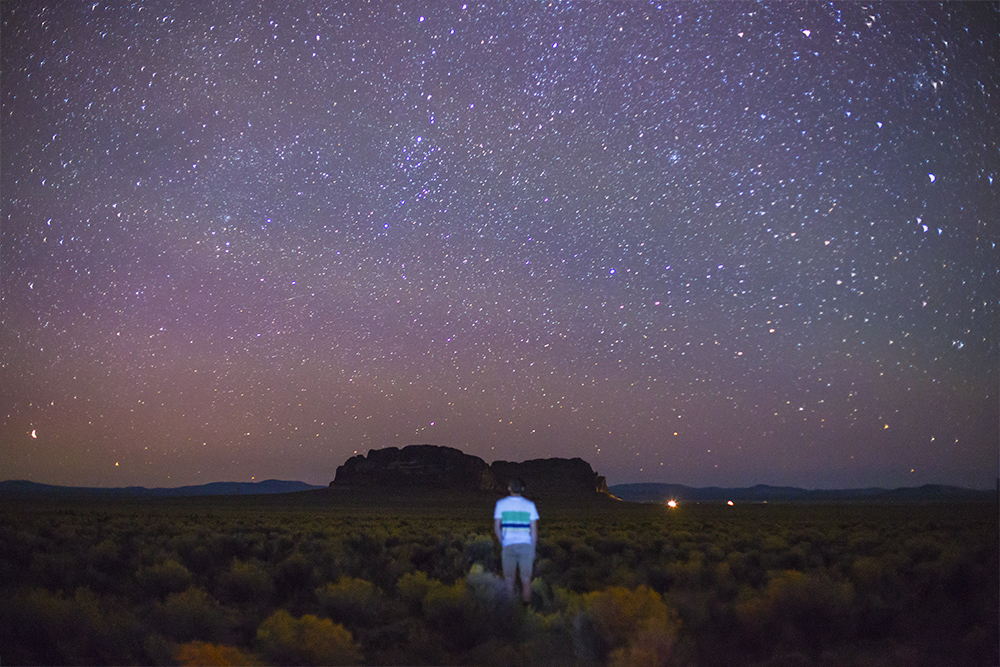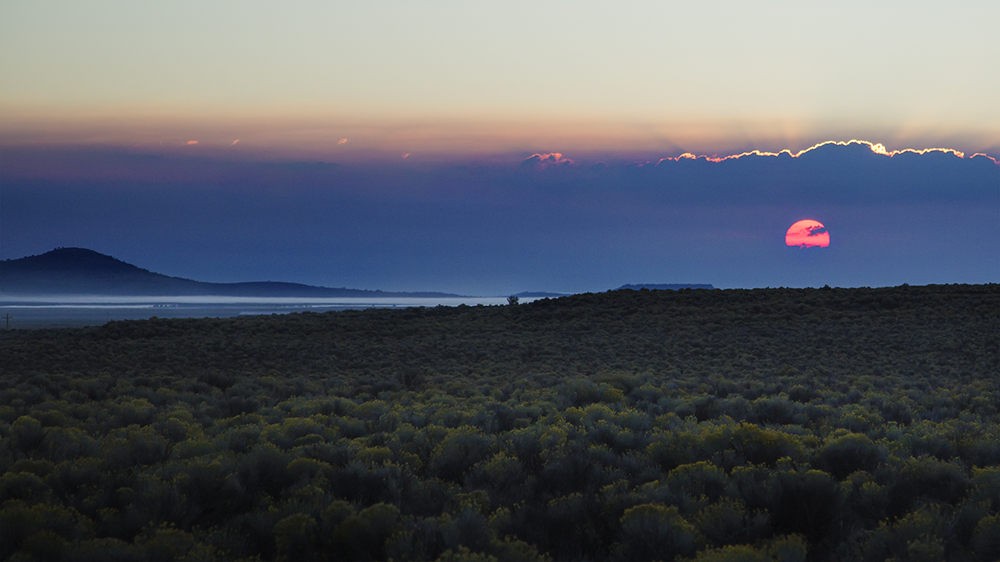 Another region of total spectacular beauty is the Fort Rock and Christmas Valley swath. But that leaves out the path from Steens to Fort Rock, which is nothing less than mesmerizingly bleak. We dipped down into Nevada via Denio, a blip of a border town that straddles the states. In fact you know you're in Denio after driving over cattle guard, and then suddenly, you're out of Denio.
Fort Rock is a powerhouse of energy, stars, sage, and 11,000 years of human history. It was once an island in a vast inland sea. Humans would canoe to it, dig a cave dwelling, and survey their world. Their paleolithic water world.
Nearby is the Derrick Cave system, which I've been looking for with great intent. It's nearly impossible to find. Particularly due to a feud between ranchers and a Government easement that passes through their property. They've gated off the south entrance, so you've heard it here: approach from the north, and leave from the north. Don't traverse via the southerly route, you'll be upsetting ranchers, on their turf, with no cell reception, on a rocky dirt road. Sketch town.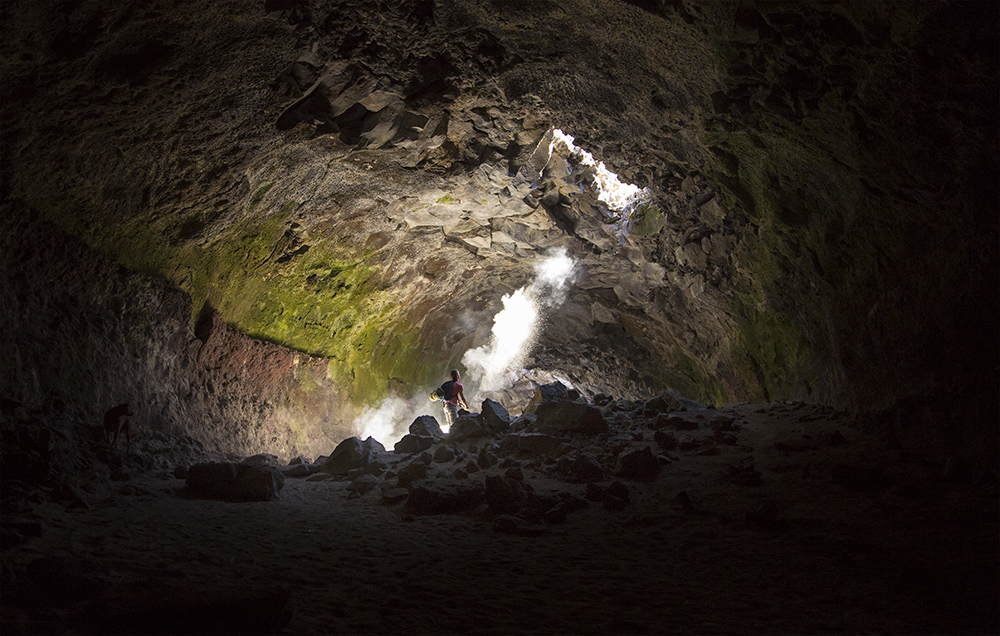 We pushed north after losing all sense of reality in those caves. There is a secondary passage, which contains a small steel window, which leads to another, deeper, darker cave. What is going ON in there!? We poked around, then felt like we were staring into the mouth of Hades, so we casually backed away.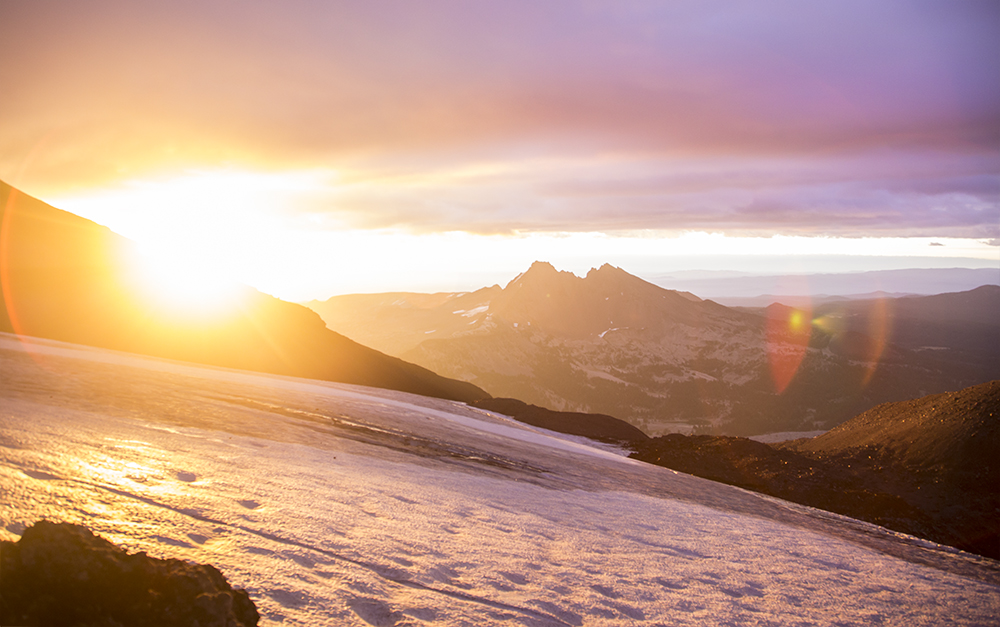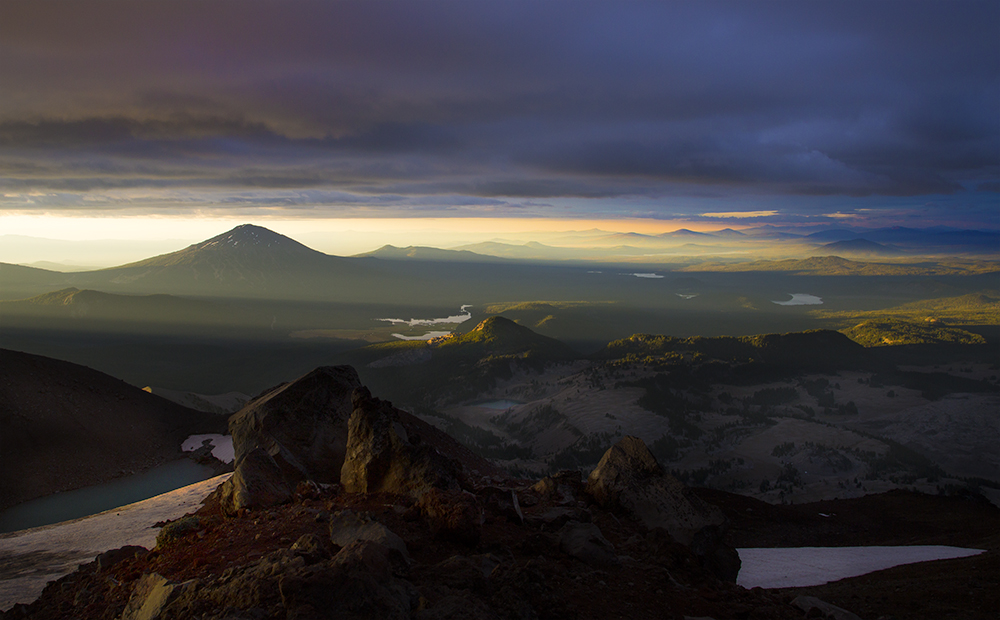 From Fort Rock up to the South Sister, we were traversing the Cascade Lakes wonderland, marked by volcanoes and sky. Seriously, central Oregon is made up of 8 prominent volcanoes all strung in a row from north to south. So, what does a north-south mountain range make during a sunrise? Shadows. Really long shadows. In the last picture above, near the center of the image, is Moraine Lake, where we woke at 3AM to get close to the summit at sunrise. That turned out to be a very long day indeed, and one of the greatest physical challenges of my life. Don't bring film equipment up a mountain, it very well may kill you.

After recovering from the South Sister, we mountain hopped to Mt. Jefferson with the sole intent of descending into another cave. Boca Cave has a 60-foot tall mouth opening and is also difficult to find, being near the summit of Triangulation Peak. On a non-cloudy day the East-facing mouth of the cave looks directly at the West face of Mt. Jefferson. What does that mean? The most epic sunset color display you may ever see, framed by a cave opening. This isn't Oregon, it's another planet.
We had clouds that blocked the mountain, but it didn't matter. We blissed out anyway.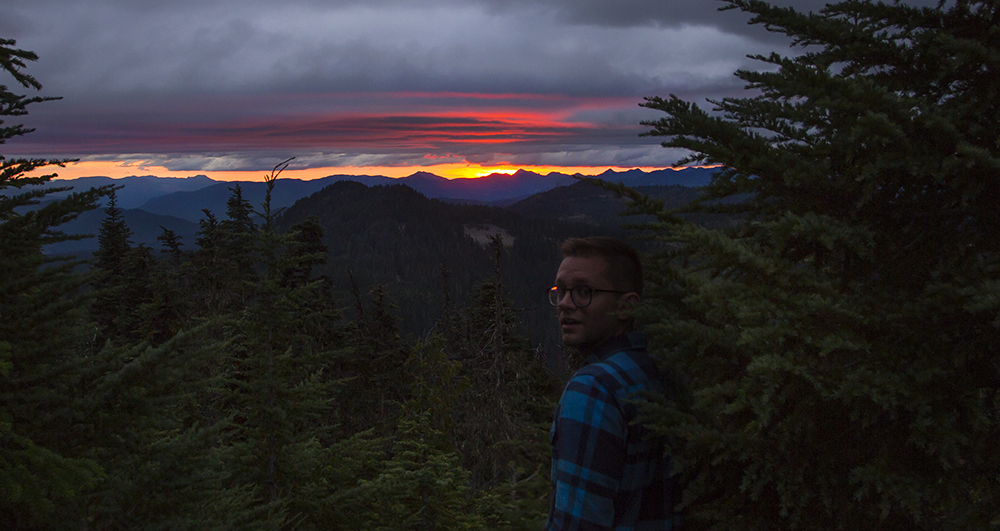 After leaving the cave at dusk, we were surprised by the most beautiful sunset I've seen in my life. We ran towards the edge of the hill we were on to peek around the trees and watch the red orb slip behind the Cascade Range, speechless. What a show. What a portal to dimensions of color I never knew.
After getting home, I realized all the mountains, all the valleys, and all the spectacular meadows we drove past and completely missed. The blue alpine lakes, the hanging glaciers, the calderas, all skipped while on our little route.
Is 32 years enough time to really understand Oregon?
Nope.
It's been a while since I got out into the deep backwoods. When I heard I'd be staying near Klamath Falls this summer I realized it was the perfect chance to strap into some back country, rather than taking the predictable I-5 on the way back. What I discovered, OF COURSE, was another dimension. One that only tickled my interest. I still had to skip over the majority of the spectacular wonder that is Central Oregon. I mean, I didn't even get to hop up to Crater Lake! But, here's a slice. And a video.
Welcome To Oregon from Aaron Rayburn on Vimeo.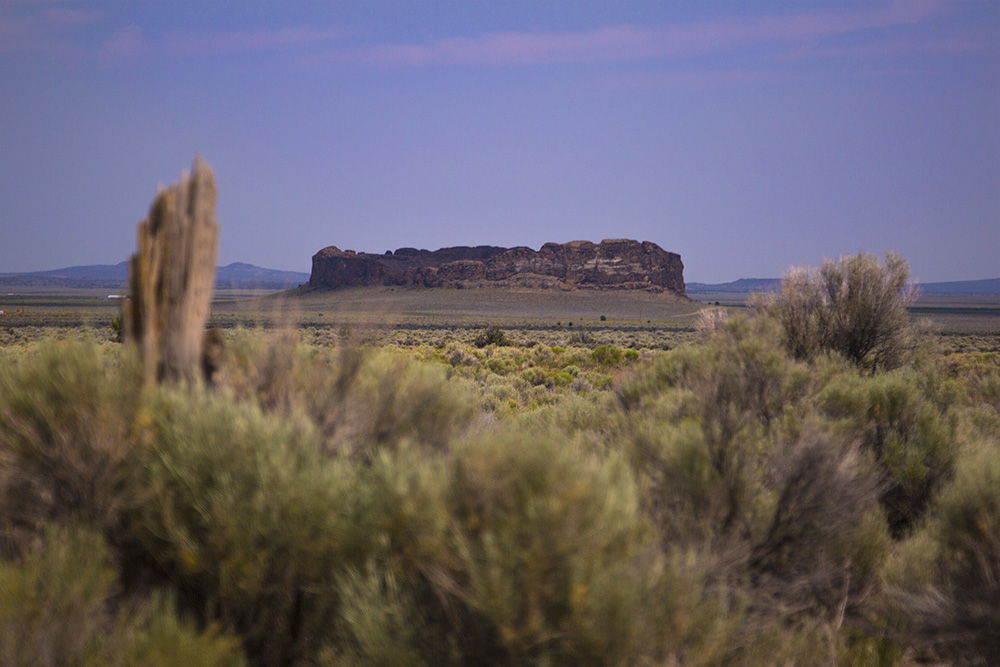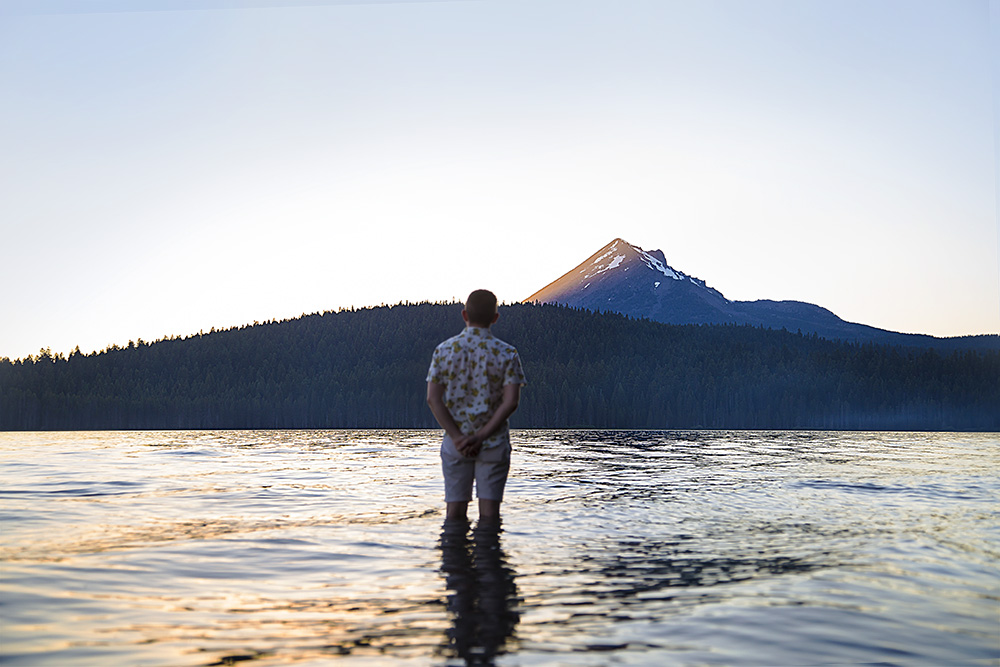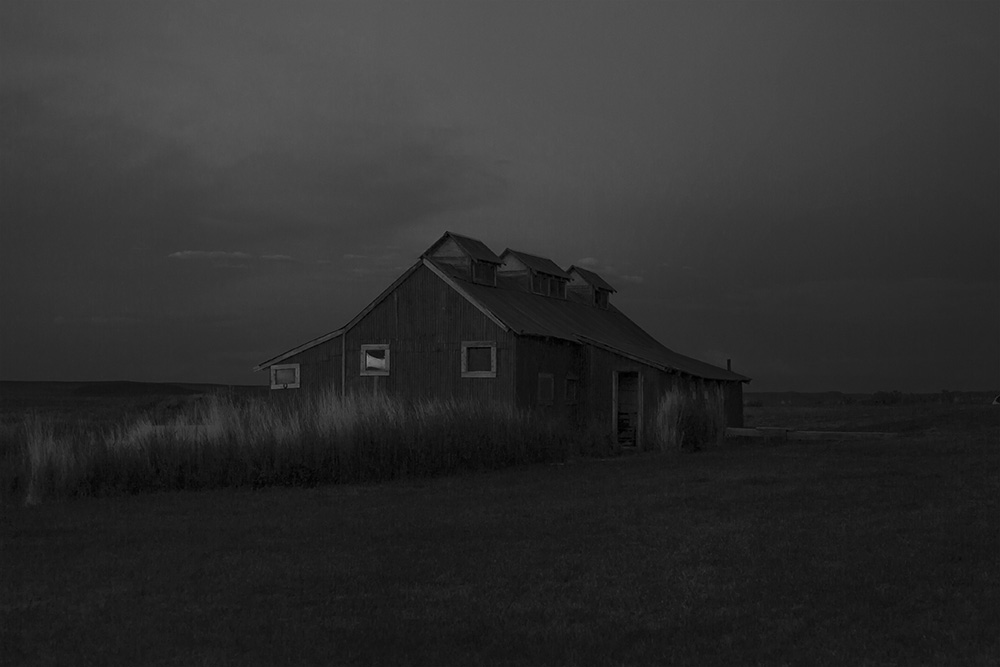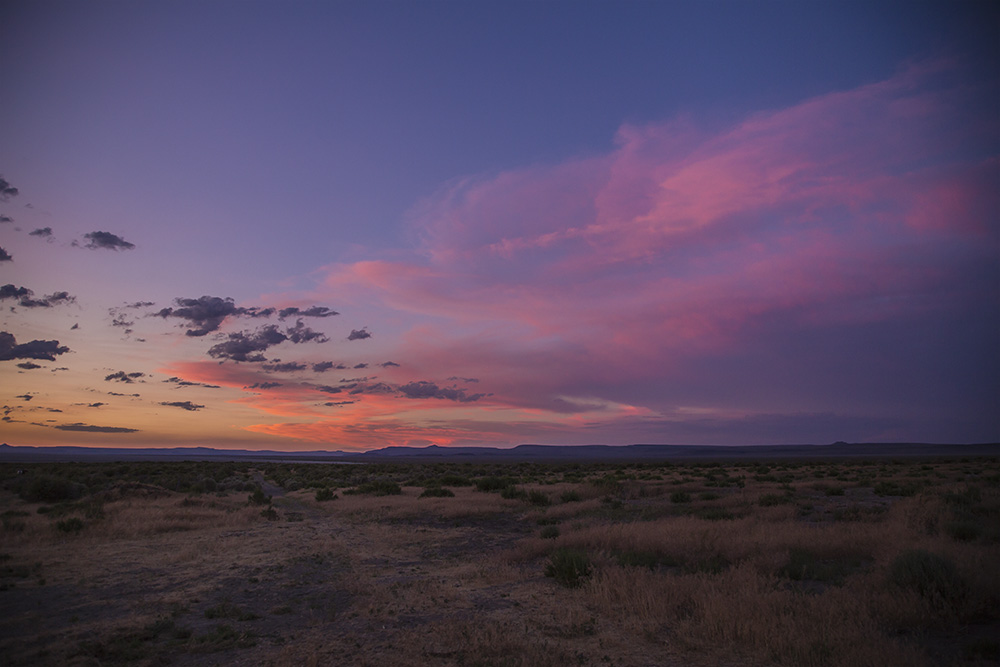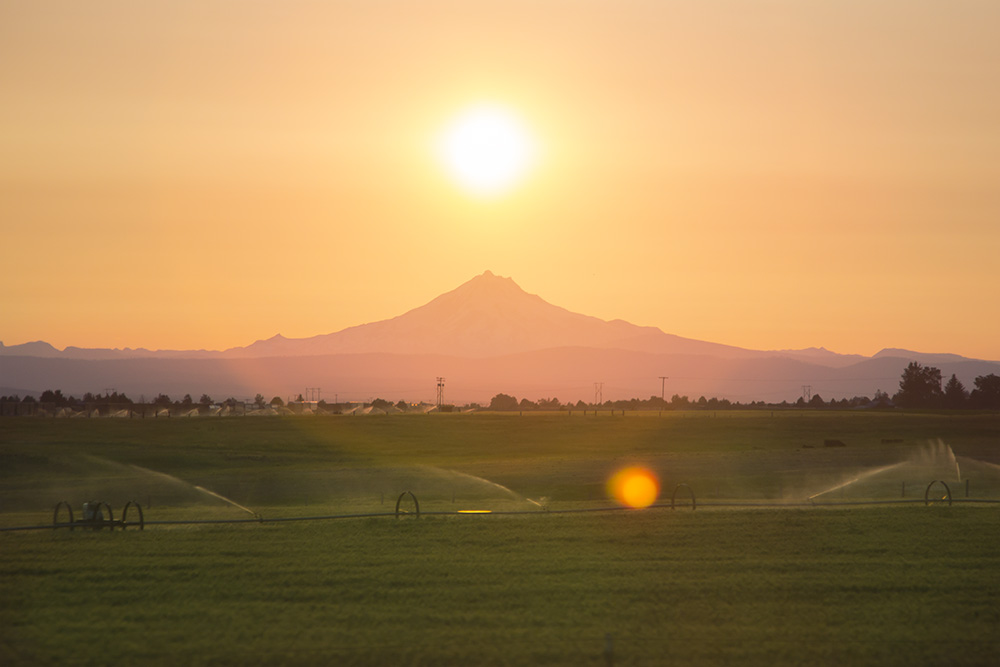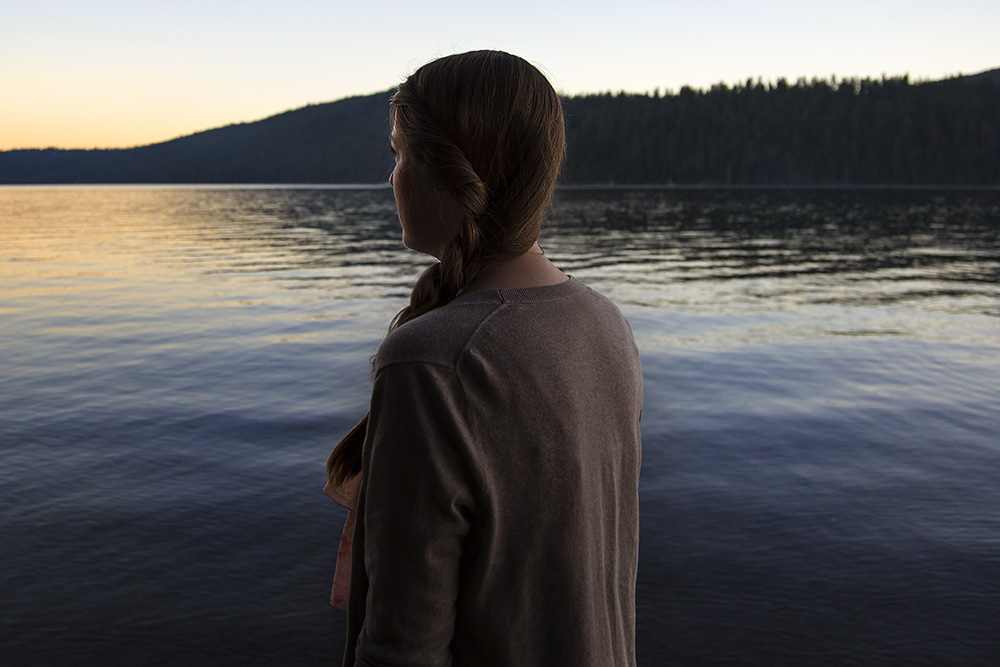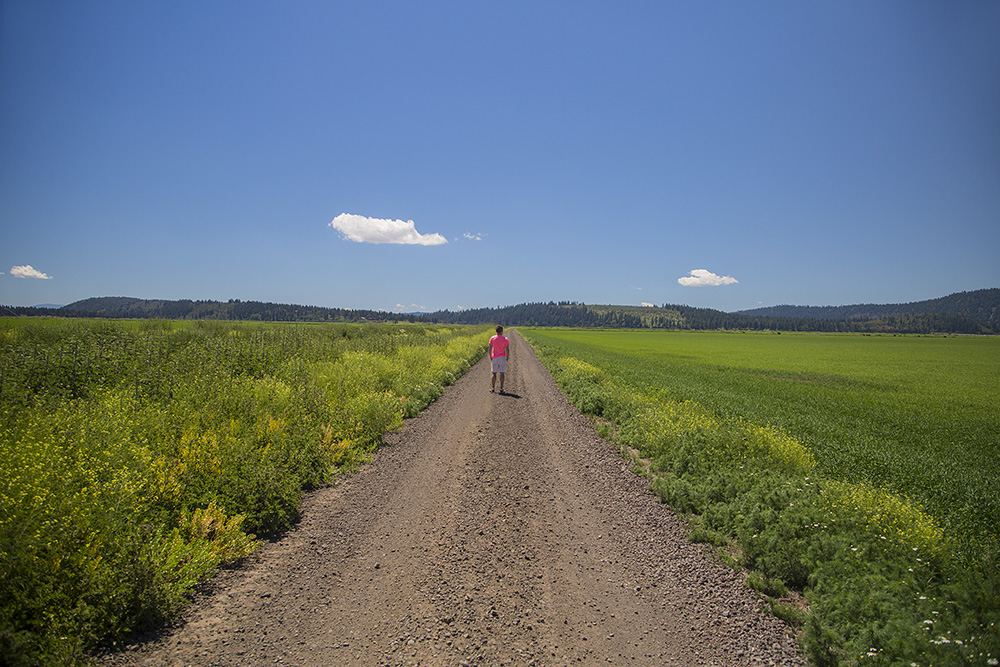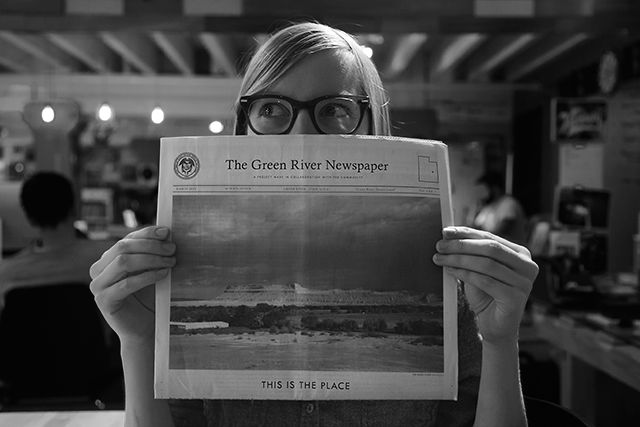 Sarah Baugh came into B-1 where we chatted for a while about why she keeps returning to Utah, what's going on at Epicenter, and why it matters to her. When I first met Sarah in design school years ago, neither of us realized her path would be so frenetic and full of energy. She was kind enough to share some of her thoughts on why she is where she is, and what kind of work there is to be done.
It's your third time going to Epicenter. Why go back?
This is a question that I often ask myself. Why do I keep returning to this place?
I think that it's the combination of the landscape and the people. I love the desert that surrounds Green River — the colors, the surreal rock formations, the vastness, the rugged plant life, the sunsets, the small pockets of water, the Bookcliffs, the San Rafael Swell, the distant La Sal mountains, the slot canyons, the redrock, the slickrock, the exposed rainbow stratum, the tumbleweed, the sweeping vistas, the old highways that are receding back into sand and sagebrush, the way you can drive for miles and not see any sign of human life, the ambling Green River. There are so many places to explore and things to do.
Every time I return see and experience something new. And the people. Green River is isolated — the nearest town is 60 miles away — so it's very important that you are surrounded by good people. The folks who run Epicenter have done a great job of building community, within the town, but also amongst themselves. It's a live/work situation, and it's really all encompassing. We eat dinner together every night, spend weekends at the beach or hiking, and then work together in the office all week. And somehow it all works. Last weekend we were invited to a Quinceañera. It was my first, and I was blown away by how warmly we were welcomed into this event. It was an amazing, and completely new experience for me — full of food, music, and dancing. It was something that I'm not going to forget anytime soon.
But why return to Epicenter? The crew here is doing work that I can get behind and that I feel compelled to contribute to. I first came here as a Frontier Fellow in August of 2012. I created a project with the help of the Green River city archivist, JoAnne Chandler, that featured materials from the archive, and included a screening of a 1938 French kayak expedition down the Green River. This project felt more like an exercise, and less like something final and polished. I left feeling like there was still more work to be done.
Nicole Lavelle and I returned in February 2013 to do the Green River Newspaper project. She had also been a Frontier Fellow in 2011. It was great working with her because we both had kind of a base understanding of the town, but we were both really curious and motivated to learn more. The newspaper allowed us to really embed ourselves in the community, and in the end this yielded something that we were proud of, more importantly, the residents of Green River were proud to contribute to.
The impetus for my current visit was twofold. I'm moving to Virginia in the fall and feel a sense of urgency to spend as much time out West as possible. Utah really won me over from my first visit, and returning felt like the right thing to do. Beyond this love of the land, I wanted to do work for Epicenter. I knew that if I stayed in Portland for the summer I would spend my time doing freelance for a studio, which is fine, but I felt that I wanted to step away from this type of client work for a bit. Being here feels more urgent. The projects I've lined up for the summer include: writing grants to fund future Green River Newspapers, developing the framework for an Epicenter membership program, and designing a book showcasing the work of past Frontier Fellows. 
Talk about the sunsets.
The sunsets in Utah are magical. No two are the same. They start out with a subtle gradient — blue to yellow, yellow to orange, orange to pink — and then sky just catches fire. It's beautiful. 


Last night we packed everyone into a single car, and drove down the longest street in Green River (Longstreet) to catch the sun as it sank into the Bookcliffs. Earlier it had reached 100 degrees, but the air was beginning to cool as we drove down the dusty road, along the river, deeper into the canyon. The sky stretched out above us and the underbellies of long wispy clouds turned pink and gold just above the craggy silhouette of the San Rafael Swell. We stood by the river until the bugs drove us away. The sun slowly disappeared as we drove back into town with the windows down and our hands catching the wind. It never gets old.
How is temporary, borderline transient life in a forgotten corner of America?
This question made me laugh. I've just never had anyone put it that way before. I'm starting to feel like Green River is my home away from home. I love driving east on highway 70 and seeing it appear in the distance. I feel a sense of relief every time. I love traveling and being on the road, but it definitely wears me down. Having someplace to return to is comforting. And things are happening here. There is always something going on, progress being made. It's great to see a project come to completion that was still in the planning stages that last time I was in town.

What exactly is Epicenter?
Epicenter is focused on three things: housing development, economic development, and arts and culture. The housing development portion has completed a Habitat for Humanity house and is currently focused on a critical home repair program, called Fix It First. The economic development side of Epicenter holds regular Green River business group meetings and has produced a set of day trip brochures that highlight nearby destinations, such as Sego Canyon and the Crystal Geyser. The Frontier Fellowship is a part of the arts and culture programing, along with a series of community arts workshops. 

Where's the value for you, Sarah Baugh?
I'm constantly asking myself this question, coming up with answers, revising, throwing those answers out, and starting over. For me, now, it's about loving a place so much, that you just can't help but make work about it. That's a messy sentence, but I think it sums things up. 
You're an infrequent, but regular member of this town, do you feel like you're giving or taking from Green River?
I hope that I'm giving more than I'm taking. I get my groceries at the Melon Vine. I eat tacos at La Veracruzana at least once a week. I fill up on gas at the Silver Eagle. I get french fries and ice cream at the Chow Hound. I check books out from the library. I send mail from the post office. I get melons from the melon stands in the summer. I have a ton of clothing from the thrift store. I've been to a high school basketball game. I spend a lot of time in the city archives.
In terms of being a part of the Green River community I feel like I've still got a long way to go. I try to attend public meetings whenever I'm in town, and say hi to people I've meet, or students I worked with, but there is always room for more active participation. I'm still working defining to define my role here, but I feel like the more I return, the more it begins to take shape. It's not just what I want out of being here, but how I'm perceived (if at all) by the community. 
Will Green River grow or thrive in this century?
Change doesn't happen over night. It can be slow and full of setbacks and false starts. Green River can attest to this — it's seen its share of booms and busts: from uranium mining to the missile base, melon farming to the hospitality industry. This town is 
resilient.
 I think it has to be. The desert environment can be harsh, and just fact that this town exists at all is a testament to its durability and perseverance  Its successes and failures have become part of its legacy. As long as the river is flowing, there will be life here. There is nowhere to go but forward. I can't wait to see what this place looks like in 10 years, in 20 years. 
What other Portland-based creatives go/have gone to Epicenter?
What does the date of August 22, 2013 mean to you?
Grad school! The East!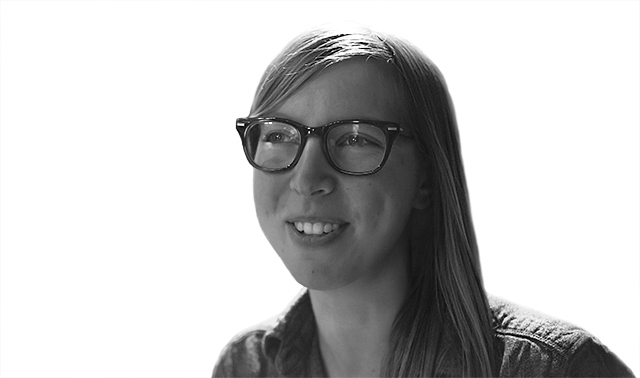 Thanks Sarah for these thoughtful answers.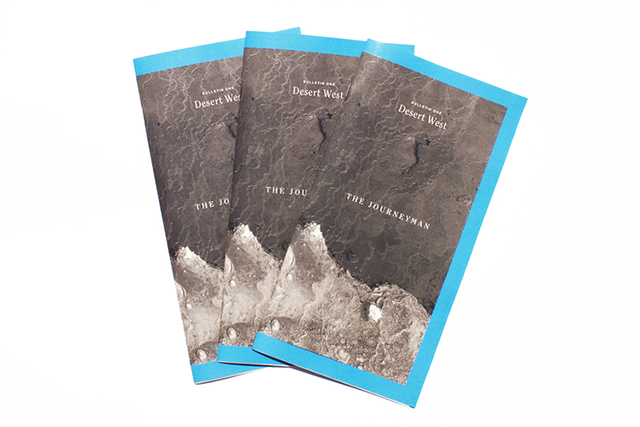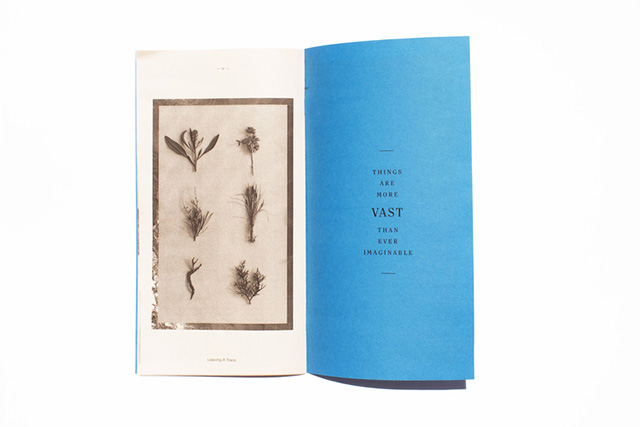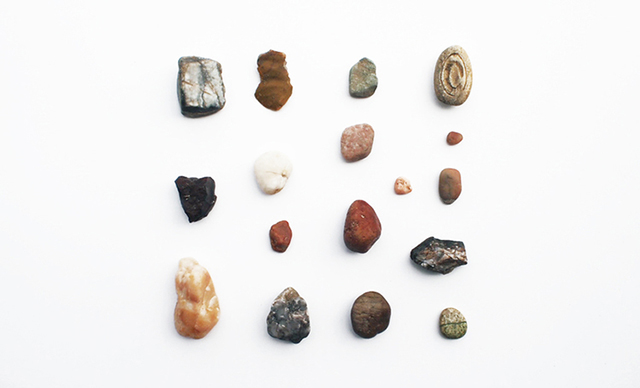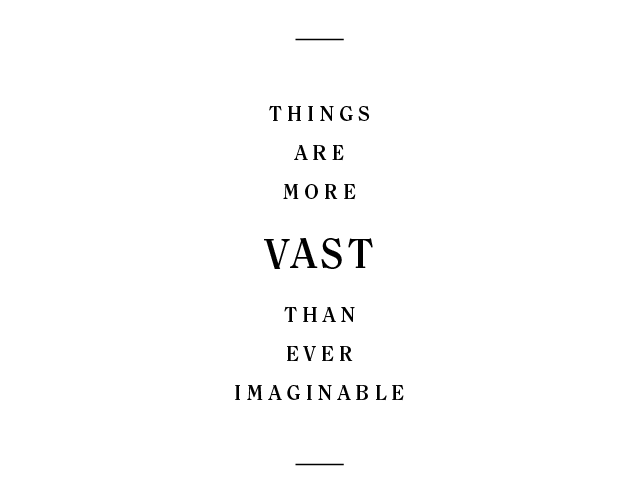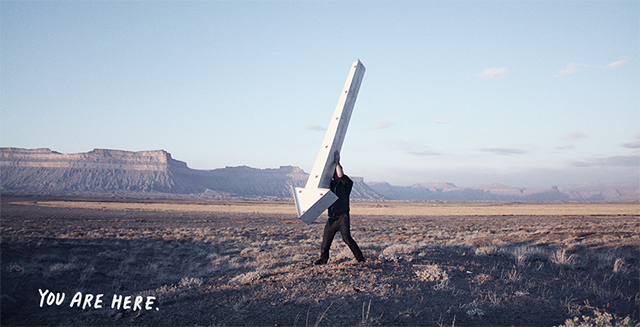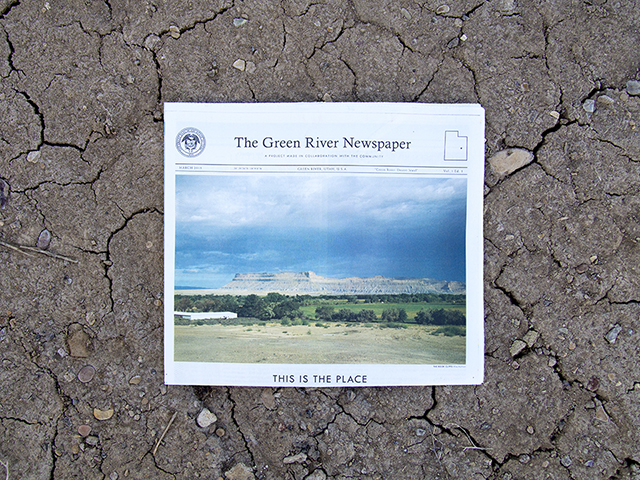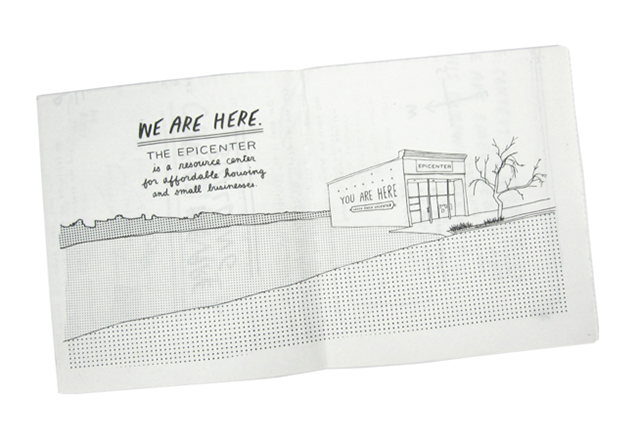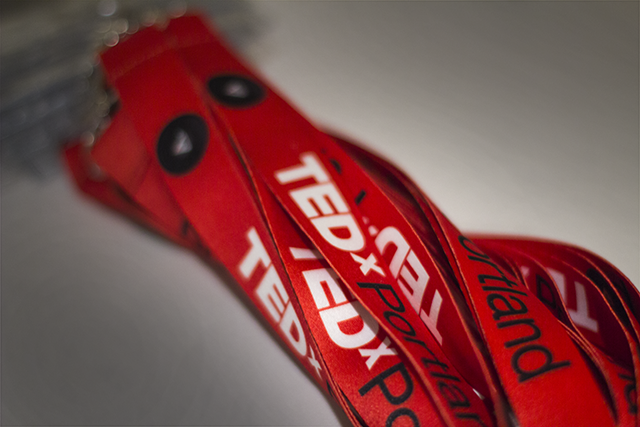 What if for one sunny Saturday in Portland  (the first sunny Saturday of the year, really) we all decided to get out of the beautiful weather that we pined for all winter long and crowded into one big, dark room? What if we all sat elbow-to-elbow, sipping Stumptown iced coffees just talking? What would we talk about? It turns out that we'd probably talk about what we eat and how we get around. We'd talk about how to save the planet and—invariably—there would be a tangent about how we all spend too much time staring at our cell phones instead of stacking firewood or something else "more real."
We'd talk about how the world is and how we want it to be, and we'd tell each other about the things that we believe in.
Pretty much we'd talk about the business of living. We'd talk about how the world is and how we want it to be, and we'd tell each other about the things that we believe in. And if we were lucky, we'd all get to see a cheetah up close. Like frighteningly close. This is the TEDx Portland experience.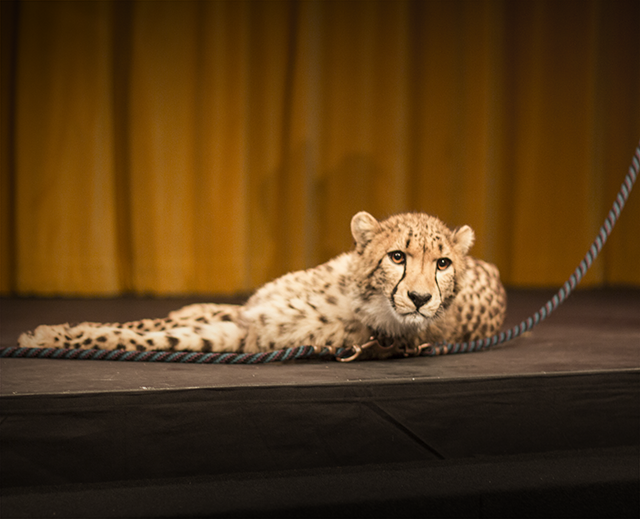 If you have an internet connection and the dexterity to type Youtube.com into a web browser— you've watched TED talks. Chances are that you've sat on your couch in the dark way too late on a weeknight watching people share their ideas and beliefs with the TED audience. We've all done this. There is a magic to that experience. Even staring into the glow of your iPad at home watching a talk feels like an intimate experience with the speaker. It feels intimate because the person whose eyes you are staring into–on screen or otherwise–is sharing something really real with you that they really care about deeply. It turns out that to actually be at TEDx is just at intimate, but even more inspiring. Sitting with your peers in an enormous room and feeling the energy of the speaker firsthand makes the world outside that dark ballroom high in the Portland Art Museum feel even more hopeful, and full of possibilities.
That's what TEDx was about really: possibilities not answers. Every speaker had a tiny piece of the puzzle, and when they put all of their pieces together their larger portion was still not the whole picture—we are. That's why it's important for us to all get together at TEDx. Because when we all get together in a big room to talk about what we've heard over ice cream sandwiches during the break something happens that is just as important as what happens on stage. Ideas are shared that will change the world in more radical ways than the speakers could have even envisioned.
TED was not created to stay locked up behind the doors of the Portland Art Museum, where volunteers only let in those who can afford the price of a lanyard and have time to give up a whole day. The ideas and thoughts and provocations of the speakers are meant to spill out into the streets of Portland—to be shaped and tweaked and critiqued by the audience into their own truths and their own questions. Those ideas are then presented back to the community where new ideas and opportunities can take shape. It's this process of invention and reinvention that makes TEDx great and makes these meetings such a special time and place. We each hold a piece of the puzzle and TEDx is just there to remind us of that.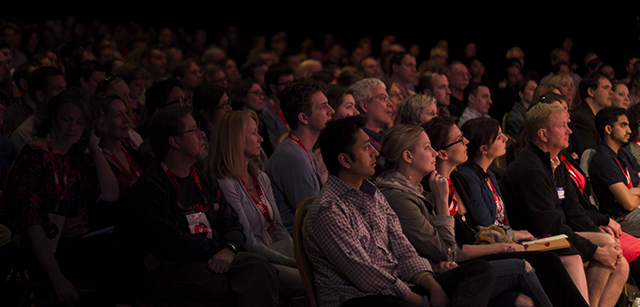 All of  the talks from TEDx Portland will soon be available  on Youtube and I urge you to watch them when they're posted. And know that if you watch Kate Bingaman-Burt's talk first thing in the morning you can forgo your morning coffee. If that talk doesn't get you excited about your day, I don't know what will.