Poler opens a door in PDX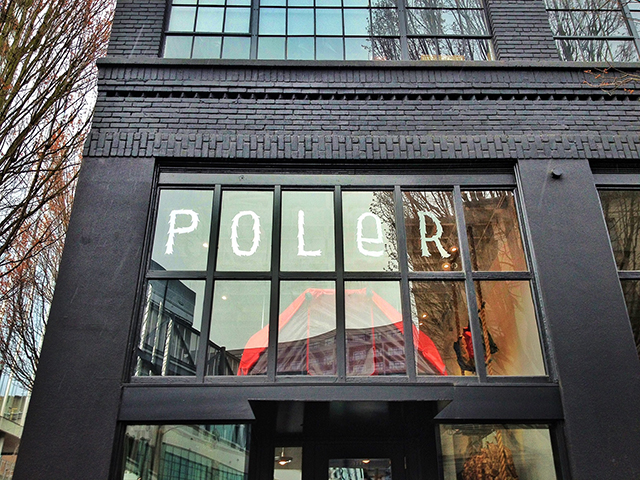 I was hoping to be the first in line. A camper, in an iconic bright orange Poler tent pitched outside the flagship store, which opened today at 10AM, just a few blocks from my studio in NW Portland. I wasn't the first there, I was actually among many thronging fans of the brand, eager to get my grimy mits on some adventure-inspired hats, tees, and a combination backpack/camera bag. Forgive the photography in this post, it's my first time posting with iPhone pics. After watching the first season of House of Cards, I wanted to play my hand at "mobile" blogging. Here we go.
In early summer 2011 I posted about Dunderdon, which happens to be the exact same location where Poler has opened their first shop on Earth. Same build-out, same brilliance designed by the magician Mr. Mathew Foster while he was co-creative director at OMFGCO, before he moved his practice to Los Angeles.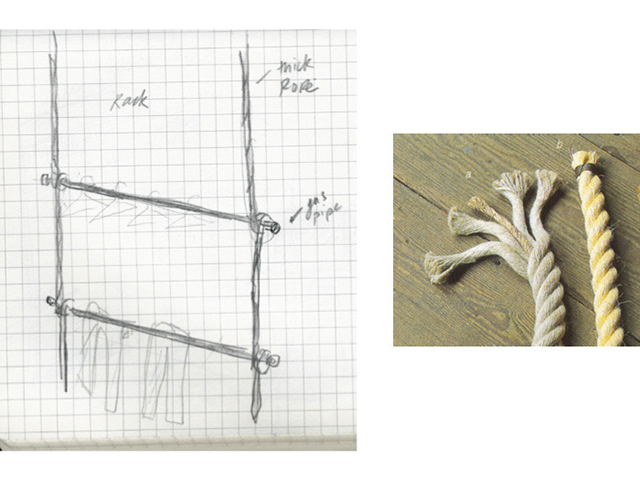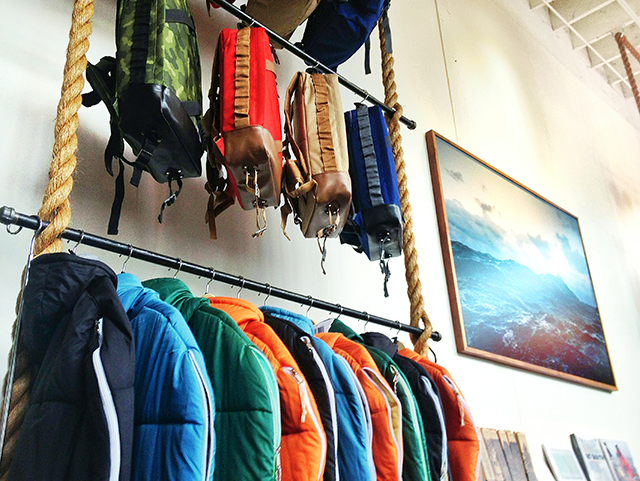 Mr. Foster was kind enough to share his initial sketches for the rope racks, which lift the eyes up to the vault-like ceilings. The floor-to-ceiling steel shelves are amazing structures on their own right, fabricated by Garth Klippert, of G. Steel Design Build.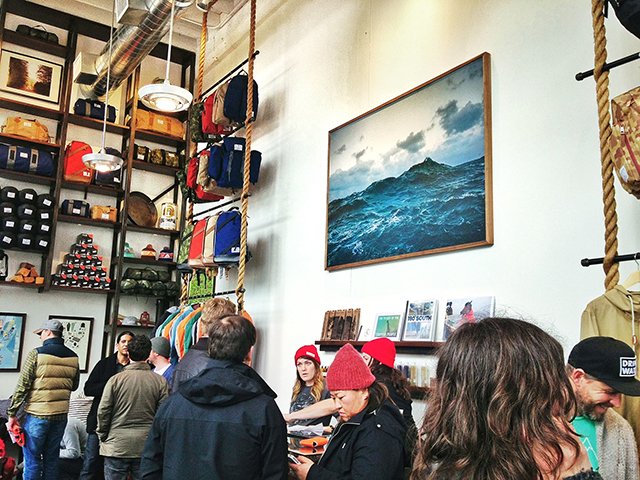 No one could go wrong with this team. In addition to Foster on design and Klippert on steel fabrication, Beam & Anchor also lent expertise to the furniture. Small and tall, you'll feel like the space stretches out before you even though it is intimately compact. Just the right size to inspire, and designed by a crack team of smart locals.
I've commented previously on the way Poler speaks to its audience, and praised the brand for its voice, point of view, and ability to make humans frothy over the idea of getting outside. I also want to express the excitement and timeliness of this flagship idea, in an important retail corner of North West Portland.
Previously, the space was occupied by Dunderdon, with neighbors Blackbird and Tanner Goods. Dunderdon opened in Spring 2011, with that same stunning Corey Arnold oceanic wonder-print behind the cash wrap.
It's still an interesting corner of downtown. Shared by space station-like Solestruck Shoes, it appears that retail here is either hyper-local, or nothing at all. Appropriate, for being a stones throw from Powell's Books, and crowd of densely clustered culturally historic establishments.
Actually seeing the merchandise wash nigh impossible today due to crowds, but today wasn't about browsing, it was about feeling like a camper in gear heaven. The price is right, the tone is chill, the owners are stalwart Oregon beard growers, and it all feels like Portland major league. That heavy moss/rain aftertaste that makes this place so delicious. With my haul, it's only a few hours before I break in some of this gear in the Gorge tomorrow morning. I'll use it with love and get it dirty with pride. Yeah I'm drinking the koolaid, but this is my hometown and goddamn I'm proud of these guys. This was only confirmed when they reposted one of my Instagram snaps, which made me immediately scream and barf, simultaneously.
If you have a phone and like pictures (that's everybody, right?) follow Poler on Instagram.
If you are not in PoPo land get online and marvel at their adventures in photography, and if you're feeling spry pick up a little something for the kids.