Epicenter Fellow Sarah Baugh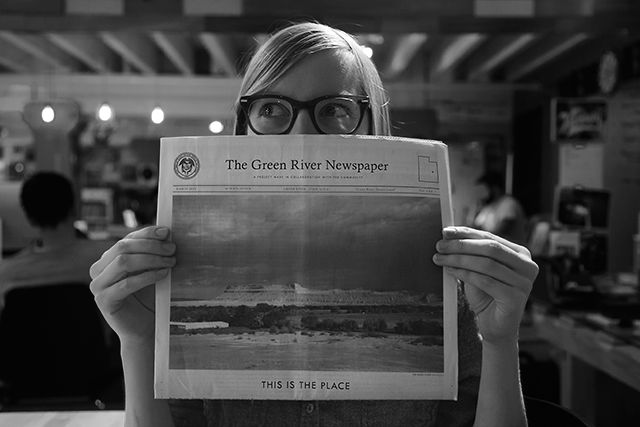 Sarah Baugh came into B-1 where we chatted for a while about why she keeps returning to Utah, what's going on at Epicenter, and why it matters to her. When I first met Sarah in design school years ago, neither of us realized her path would be so frenetic and full of energy. She was kind enough to share some of her thoughts on why she is where she is, and what kind of work there is to be done.
It's your third time going to Epicenter. Why go back?
This is a question that I often ask myself. Why do I keep returning to this place?
I think that it's the combination of the landscape and the people. I love the desert that surrounds Green River — the colors, the surreal rock formations, the vastness, the rugged plant life, the sunsets, the small pockets of water, the Bookcliffs, the San Rafael Swell, the distant La Sal mountains, the slot canyons, the redrock, the slickrock, the exposed rainbow stratum, the tumbleweed, the sweeping vistas, the old highways that are receding back into sand and sagebrush, the way you can drive for miles and not see any sign of human life, the ambling Green River. There are so many places to explore and things to do.
Every time I return see and experience something new. And the people. Green River is isolated — the nearest town is 60 miles away — so it's very important that you are surrounded by good people. The folks who run Epicenter have done a great job of building community, within the town, but also amongst themselves. It's a live/work situation, and it's really all encompassing. We eat dinner together every night, spend weekends at the beach or hiking, and then work together in the office all week. And somehow it all works. Last weekend we were invited to a Quinceañera. It was my first, and I was blown away by how warmly we were welcomed into this event. It was an amazing, and completely new experience for me — full of food, music, and dancing. It was something that I'm not going to forget anytime soon.
But why return to Epicenter? The crew here is doing work that I can get behind and that I feel compelled to contribute to. I first came here as a Frontier Fellow in August of 2012. I created a project with the help of the Green River city archivist, JoAnne Chandler, that featured materials from the archive, and included a screening of a 1938 French kayak expedition down the Green River. This project felt more like an exercise, and less like something final and polished. I left feeling like there was still more work to be done.
Nicole Lavelle and I returned in February 2013 to do the Green River Newspaper project. She had also been a Frontier Fellow in 2011. It was great working with her because we both had kind of a base understanding of the town, but we were both really curious and motivated to learn more. The newspaper allowed us to really embed ourselves in the community, and in the end this yielded something that we were proud of, more importantly, the residents of Green River were proud to contribute to.
The impetus for my current visit was twofold. I'm moving to Virginia in the fall and feel a sense of urgency to spend as much time out West as possible. Utah really won me over from my first visit, and returning felt like the right thing to do. Beyond this love of the land, I wanted to do work for Epicenter. I knew that if I stayed in Portland for the summer I would spend my time doing freelance for a studio, which is fine, but I felt that I wanted to step away from this type of client work for a bit. Being here feels more urgent. The projects I've lined up for the summer include: writing grants to fund future Green River Newspapers, developing the framework for an Epicenter membership program, and designing a book showcasing the work of past Frontier Fellows. 
Talk about the sunsets.
The sunsets in Utah are magical. No two are the same. They start out with a subtle gradient — blue to yellow, yellow to orange, orange to pink — and then sky just catches fire. It's beautiful. 


Last night we packed everyone into a single car, and drove down the longest street in Green River (Longstreet) to catch the sun as it sank into the Bookcliffs. Earlier it had reached 100 degrees, but the air was beginning to cool as we drove down the dusty road, along the river, deeper into the canyon. The sky stretched out above us and the underbellies of long wispy clouds turned pink and gold just above the craggy silhouette of the San Rafael Swell. We stood by the river until the bugs drove us away. The sun slowly disappeared as we drove back into town with the windows down and our hands catching the wind. It never gets old.
How is temporary, borderline transient life in a forgotten corner of America?
This question made me laugh. I've just never had anyone put it that way before. I'm starting to feel like Green River is my home away from home. I love driving east on highway 70 and seeing it appear in the distance. I feel a sense of relief every time. I love traveling and being on the road, but it definitely wears me down. Having someplace to return to is comforting. And things are happening here. There is always something going on, progress being made. It's great to see a project come to completion that was still in the planning stages that last time I was in town.

What exactly is Epicenter?
Epicenter is focused on three things: housing development, economic development, and arts and culture. The housing development portion has completed a Habitat for Humanity house and is currently focused on a critical home repair program, called Fix It First. The economic development side of Epicenter holds regular Green River business group meetings and has produced a set of day trip brochures that highlight nearby destinations, such as Sego Canyon and the Crystal Geyser. The Frontier Fellowship is a part of the arts and culture programing, along with a series of community arts workshops. 

Where's the value for you, Sarah Baugh?
I'm constantly asking myself this question, coming up with answers, revising, throwing those answers out, and starting over. For me, now, it's about loving a place so much, that you just can't help but make work about it. That's a messy sentence, but I think it sums things up. 
You're an infrequent, but regular member of this town, do you feel like you're giving or taking from Green River?
I hope that I'm giving more than I'm taking. I get my groceries at the Melon Vine. I eat tacos at La Veracruzana at least once a week. I fill up on gas at the Silver Eagle. I get french fries and ice cream at the Chow Hound. I check books out from the library. I send mail from the post office. I get melons from the melon stands in the summer. I have a ton of clothing from the thrift store. I've been to a high school basketball game. I spend a lot of time in the city archives.
In terms of being a part of the Green River community I feel like I've still got a long way to go. I try to attend public meetings whenever I'm in town, and say hi to people I've meet, or students I worked with, but there is always room for more active participation. I'm still working defining to define my role here, but I feel like the more I return, the more it begins to take shape. It's not just what I want out of being here, but how I'm perceived (if at all) by the community. 
Will Green River grow or thrive in this century?
Change doesn't happen over night. It can be slow and full of setbacks and false starts. Green River can attest to this — it's seen its share of booms and busts: from uranium mining to the missile base, melon farming to the hospitality industry. This town is 
resilient.
 I think it has to be. The desert environment can be harsh, and just fact that this town exists at all is a testament to its durability and perseverance  Its successes and failures have become part of its legacy. As long as the river is flowing, there will be life here. There is nowhere to go but forward. I can't wait to see what this place looks like in 10 years, in 20 years. 
What other Portland-based creatives go/have gone to Epicenter?
What does the date of August 22, 2013 mean to you?
Grad school! The East!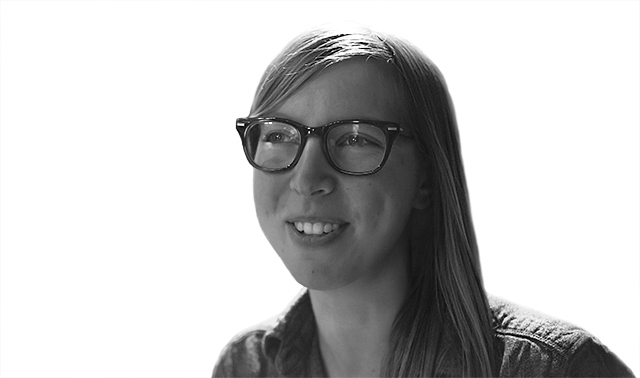 Thanks Sarah for these thoughtful answers.