Invisible Creature with Don Clark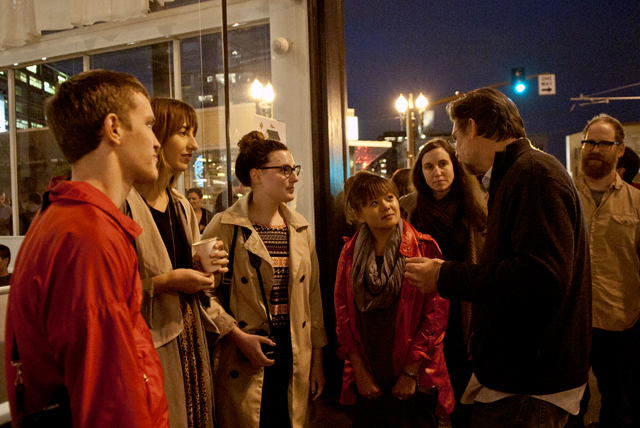 Two cities, two houses of design, one community. The Spit Swap has happened, and not only was it informative/inspiring/radical, it was engaging. Here's the thing with being engaged, it leaves you better prepared to create things worth sharing than passive involvement. I never feel like I just attend a Designspeaks talk. They actively engage, so in fact I'm paying a few bucks to get mobilized. It's a briefing, if you will, on what I am about to do with something inspiring.
The image above is a complete representation of what Designspeaks is and hopes to be. The coordinator, Eric Hillerns, dropping knowledge on four current design students with the Bingaman–Burt's close at hand. What value is there to a student of design that is thrown into the industry and given experiential knowledge from practitioners? Effing tons (dropped-knowledge receivers from left are Ryan Bush, Corbin LaMont, Allison Berg, and Tina Snow Le).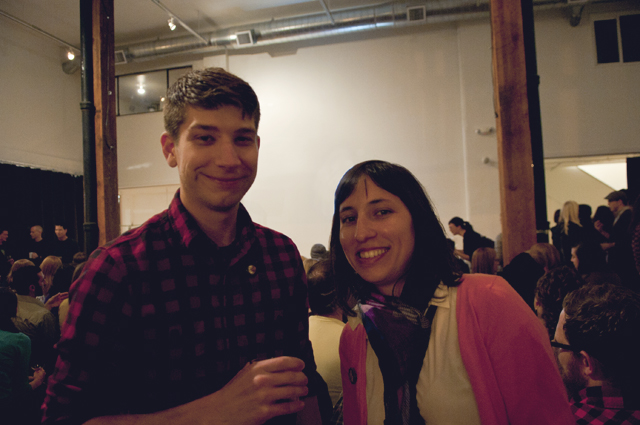 As a bonus to the night the photogenic Tyler & Elsa Lang that constitute Always With Honor introduced Invisible Creature. Who knew the stage loved these guys so much? Let's just say they closed with claps and giggles from the entire room in a casual sort of "we're pro's at this" air. Hidden talents guys.
Don Clark (along with his brother Ryan) are the smart & talented designers behind Seattle-based Invisible Creature. Well they are more than designers. They are illustrators, rockers, talkers, culture creators, and recent Designspeaks alumni. As usual The Cleaners at the Ace Hotel hosted a room bursting with eager ears, tasty snacks, and a talk that left us all whispering greatness to one another.
What I appreciate greatly is that Don spent the better part of his talk explaining his history. Starting with his Grandfather, who was an illustrator at NASA for 30 years, Don laid out his path in a linear fashion to where he is today, working in Seattle with his brother, doing some of the sickest work on the West Coast.
From Bend, Oregon, to Sacramento, to where he is today in Seattle, he like most humans was inspired by a variety of media that came before his eyes. Specifically, however, were the snowboarding and hard rock music scenes of the early nineties. Music was and still is a large part of Invisible Creature's focus and source of inspiration. From album covers to the poster explosion to the music itself. Don spent some time talking about several moments in recent design history that shook his sensibilities and direction, like Sagmeisters first book, or watching the animated film The Incredibles.
After a few of these jolting/illuminating experiences, along with having children, Don & Ryan shifted their focus from music to packaging, drawing & character illustration. They began to see Alain Gree and Richard Scary and all the ideas of modernism in a new light. Crashing through the fear of getting pigeon-holed, the pursued their heart's directorial pull and started to create some iconic work in modern character illustration.
At the end of the talk and after showing some great new work, one person asked "When are you moving to Portland?" in an act of admiration. Don answered immediately "I'm not worthy to move to Portland, I'm the least cool person on your streets."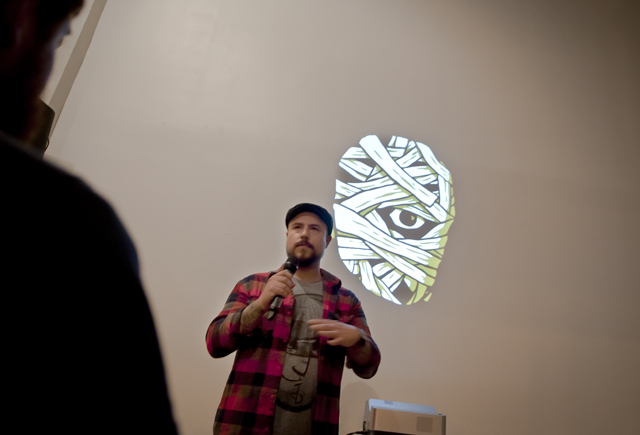 And that's the thing about Invisible Creature. They are humble, and they will advocate for you. How many times did I hear the phrase "It's an honor to be here" during this talk? How often did Don mention the people that he looks up to? In the end the whole talk was a big "Thank you" to the supportive community that is flexing its young muscles in the Pacific Northwest. In this instance, Eric Hillerns, Duane King, Lloyd Winter, Aaron Draplin, and Designspeaks deserve some admiration. Is this how you pull people together? Yes. Is this how you spread talent in the interest of inspiring?
Yes.
There is a reason there are no seats, why people are willing to stand in the back for over an hour. And it's not the free beer. For less than the price of dinner and a movie, people leave with full heads and soft smiles. It's an evening for your hands, eyes, and thoughts. Hey students, there isn't a price-tag for this sort of thing.
Check out a SMALL sample of the work, much more here, including characters, history, a shop, and an awesome blog chronicling these Seattlites experience in Portland!