Stan Rogers
Stan Rogers wasn't born in the Maritimes but it's fair to say that they claim him. Early in his life he spent summers and formative years in Nova Scotia which greatly influenced his musical career and point of view on the world, singing epic love songs to the life, myth, and grandeur of a life at sea. The influence of the maritime tradition is held by many Canadians, regardless of their proximity to the sea, which can be seen on the Canadian dime. On it, rests the Queen of the Grand banks, the mythical Bluenose Schooner, which can also be seen on the license plates of Nova Scotia, and on old 50 cent stamps.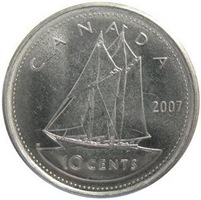 Sadly, Mr. Rogers didn't make it out of an airplane that caught fire to save his life in 1983. His career, though truncated, was magnanimous enough to start a legend, and today his albums, distinctive voice, and influence on folk music still hold strong as the image of the Bluenose. In fact, one of my favorite songs he wrote is about this very ship, simply titled "Bluenose" with incredibly written poetry around the idea of a national icon.
Feel her bow rise free of Mother Sea
In a sunburst cloud of spray
That stings the cheek while the rigging will speak
Of sea-miles gone away

So does she not take wing like a living thing
Child of the moving tide
See her pass with grace on the water's face
With clean and quiet pride
Here, rare footage of the original Bluenose schooner, racing against her Gloucester rival, the Gertrude L. Thibault, is set to Stan Roger's inspiring music and voice:
Here, Stan is seen in-action with his maritime countrymen long ago in what appears to be a sleepy fishing village filled to the brim with tall tales. He wrote a song called Barrett's Privateers chronicling the angst of a contract fisherman and his broken dreams at sea, reflecting on his life on a Halifax pier. What I would give to be in this room with a lager tapping my toes with these men. Their appearance is incredible!
It saddens me to think about his early death, and that today he'd be a crusty old man like Willy Nelson, the northern version. Still, I don't really tire of his music. Though I'm not a sailor or Canadian, it does seem to somehow fit with the regional heritage of the Pacific Northwest, especially when he sings about the Northwest Passage, following the Fraser river to the sea, etc. It's a wild sounding music. Underproduced, true to its source, and a fresh sound for eager ears. Each song just sounds like it was recorded one evening at a friends house over booze, a good meal, and a cozy fire. I'll take that life.