Iqaluit cultural mural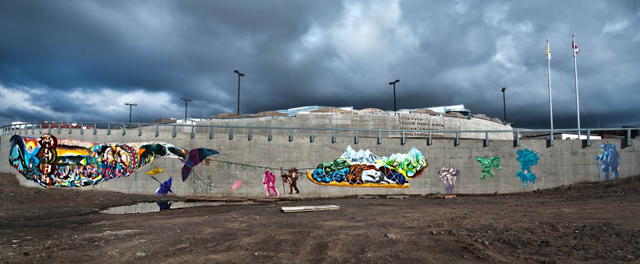 Looks like Alexa Hatanaka, Patrick Thompson, and Jonathon Cruz took 9 days painting something incredible way up in Iqaluit, Nunavut, Canada recently outside the Qikiqtani General Hospital. I cannot believe the amount of detail shown here, and the cultural significance of the subjects. It's so enthralling and intricate, I would love to be on a project like this. Associated with the project is this awesome firm based in Iqaluit called Nuschool. Iqaluit has a graphic design firm! I love this, I absolutely love this activity. Such excellent work.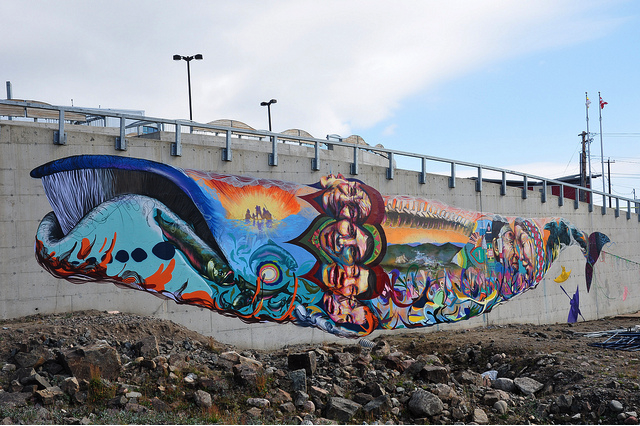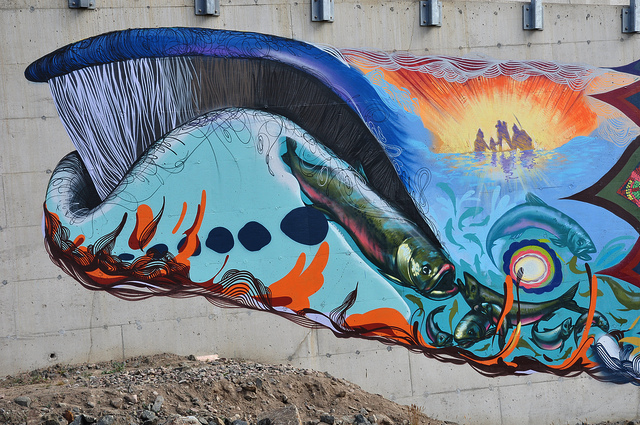 The rendering of the enormous Bow Head Whale is unlike anything I've seen before. I'm pretty sure this was done with spray paint. From the artists:
"Myself, Patrick Thompson, and Jonathon Cruz spent the past 9 days creating this mural on the outer wall of the hospital in Iqaluit, Nunavut. It was an amazing time–we got lucky with many sunny days, ate raw bowhead whale and arctic char, painstakingly picked heaps of blueberries, had tons of support and helping hands from residents, grazed the beautiful landscape, and got nothing but positive feedback. Lots of work but totally worth it, so fun."
Alexa Hatanaka has lots of other projects to check out. As does Nuschool.