40,000-piece textile archive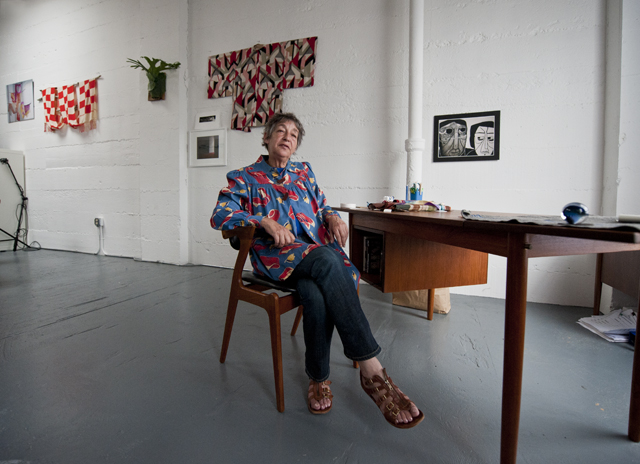 It was an accident really that led me to Andrea Aranow. I was working in the Goldsmith Building in Chinatown when Caleb Sayan poked his head into the studio. He was looking for Jelly Helm. In his stead I followed Caleb up to to the fourth floor and caught my breath when I walked into what is the largest private textile archive in the world.
Caleb mentioned that his mother, Andrea Aranow, was flying in from New York in a few weeks and what started as an act of curiosity ended in a film project.
Andrea Aranow is a New York-based textile  collector and clothing designer. Her design holdings, however, are housed (archived) in Portland, Oregon and consist of over 40,000 pieces in total, meticulously archived in a digital collection.
Andrea's collection is as vast as it is stunning. Her holdings can be found in museums across the globe and include some 700 Kimono, 26,000 swatches and designs, and decades worth of research done in China, Japan, Peru and the United States. She has a history of sewing, making, and dressing. Her storefront in the lower East Side of Manhattan housed patrons like Jimi Hendrix and Miles Davis. Her holdings have been the curiosity of the House of Alexander McQueen, and what's more is that the majority of her design collection lives now in Portland. It has been meticulously archived in its entirety, piece by piece, photographically categorized by composition, era of origin, and technique.
This is a collection to write home about. So instead of writing a nice note to your mother, watch this video. This couldn't have happened without the generous support of Caleb Sayan, Blue Rider Design, and Andy Chandler.
Ryan Bush and I worked together as co-directors, editors and producers.
The creative corridor of this town is absolutely magnificent, and it's very exciting to share with you.